PureWow x Plum Diamonds: Shopping for a Ring Online
Choosing an engagement ring is a huge decision! It's a representation of your love and commitment to your partner, and you want to make sure that it's a ring that you'll both love and cherish.
Shopping for an engagement ring can be challenging, especially when you're shopping for an engagement ring online. There are so many options available, and it can be difficult to know where to start. That's why we appreciated PureWow's article featuring interviews with Plum cofounder Kristy Cullinane and other expert jewelers; it's a valuable resource for anyone in need of tips for shopping for an engagement ring online!
And did they ever have a lot to say! From the different types of diamonds and settings, to discussing lab grown diamonds, to the importance of ethical jewelry sourcing. Not surprisingly, one of the biggest takeaways from the article is that it's important to do your research before making a purchase. This means reading reviews, comparing prices, and understanding the different types of rings available.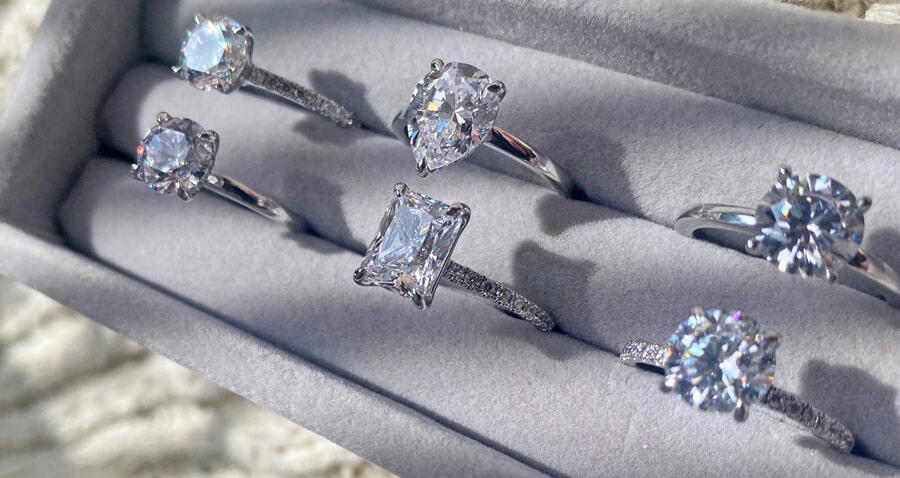 Another important takeaway is that it's essential to work with a reputable jeweler. When shopping for an engagement ring online, it's easy to get scammed or end up with a subpar product. That's why it's important to do your due diligence and only work with jewelers who have a proven track record of delivering high-quality products and excellent customer service.
If you're not sure where to start when it comes to choosing the perfect engagement ring, we recommend checking out our Find Your Diamond Kit. This try-at-home kit includes everything you need to figure out the best ring size, ring design, and diamond shape for you. Once you've completed the kit, you'll have a better idea of what you're looking for and can start shopping with confidence.
Thank you PureWow for inviting Plum to contribute! Check out the full article here.
And if you're ready to begin, let's get started finding the perfect lab grown diamond engagement ring! With our commitment to sustainability and ethical sourcing, you can feel good about your purchase while also finding the lab diamond ring of your dreams.