Tips for Engagement Ring Shopping Online in 2023
Engagement ring shopping is an exciting and monumental experience, and buying an engagement ring online has become more popular and convenient as the world becomes increasingly digital. With so many great options and new technologies for a great shopping experience, it's never been a better time to buy online. 
At Plum Diamonds, we understand the importance of finding the perfect engagement ring. In this blog post, we'll share some engagement ring shopping tips to help you navigate the world of online shopping and ensure a seamless experience.
DO YOUR RESEARCH
One of the biggest engagement ring shopping tips is to do your research. Before diving into the vast world of engagement rings, spend some time learning about the different styles, different diamond cuts, and settings. This will help you narrow down your preferences and make the buying process easier.
We want you to feel empowered and offer lots of information on our website including a comprehensive guide to engagement ring styles and the 4 C's of diamond quality: Cut, Carat, Clarity, and Color. But as always, feel free to contact us directly for help!
SET A BUDGET
We know, we know, budgeting feels like such an unromantic topic when you're surrounded by all that diamond potential.
Before starting your engagement ring shopping journey, it's essential to set a budget. Knowing what an engagement ring costs and what you're comfortable spending will help you avoid overspending and keep your search focused.
A recent US News and World Report feature all about how to pay for an engagement ring asked us our thoughts. The big takeaway? Spend whatever you're most comfortable with.
Remember, you can always upgrade later, so choose a price range that you're comfortable with. (Although, this is another reason to buy a lab grown diamond: the more modest price may allow you to go bigger and get the diamond you want right from the start - no upgrade required.)
We're maybe a bit biased, but one of the great things about choosing a lab-grown diamond is that it gives you more bang for your buck! Check out the approximate price differences:  
Lab vs. Mined Diamond Pricing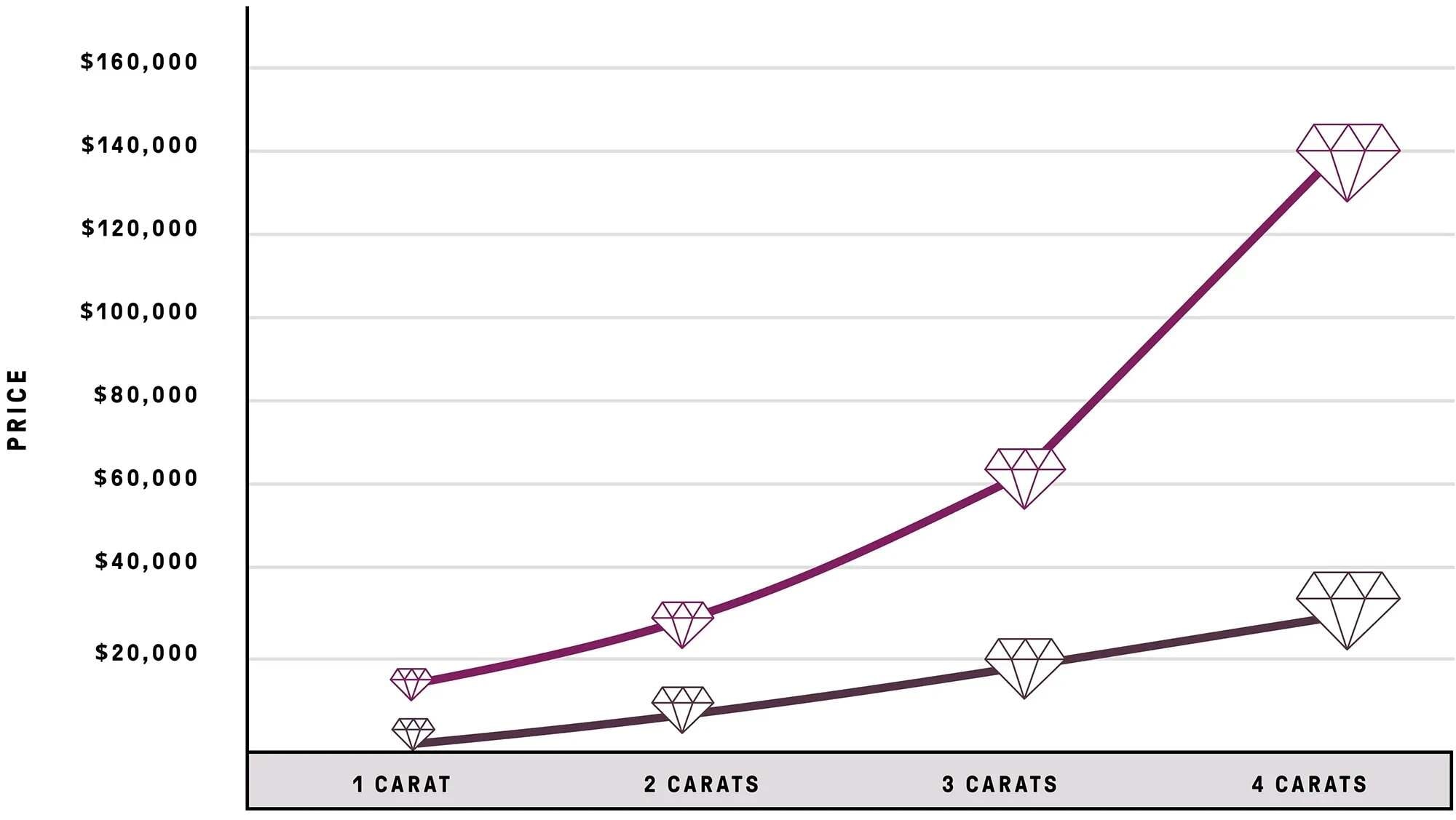 PRIORITIZE WHAT MATTERS MOST
When buying an engagement ring online, it's crucial to prioritize the features that matter most to you. Is diamond color more important than then carat weight? Does the metal type hold sentimental value? By identifying your priorities, you'll better understand what to look for in a ring.
Pro tip: prioritizing the 4Cs can get confusing, and this is where we encourage you to reach out to an expert if you need help! We're here if you need us! One of our go-to recommendations is to prioritize color over clarity; most of the time, the sparkle and faceting will hide imperfections in diamonds graded SI and up. But on the other hand, you'd see color differences much more easily!
Check out our diamond clarity chart and consider choosing diamonds lower on the scale if it means you can go higher in color and carat.
VERIFY THE ONLINE RETAILER'S REPUTATION
Make sure to choose a reputable online retailer when purchasing an engagement ring. Look for reviews, customer experiences, and even check social media to see who you're working with. We always want to know who's behind the brand and that the company is trustworthy.
Plum Diamonds works hard to build on our strong reputation for quality, service, and satisfaction, making us a reliable choice for lab grown diamond engagement ring shopping online.
You can also feel confident in our commitment to sustainability and ethical jewelry sourcing, because we're vetted members of the Green Wedding Alliance and our manufacturing division is a certified member of the Responsible Jewellery Council.
(Ok, enough of us tooting our own horn, and on to the next tip!)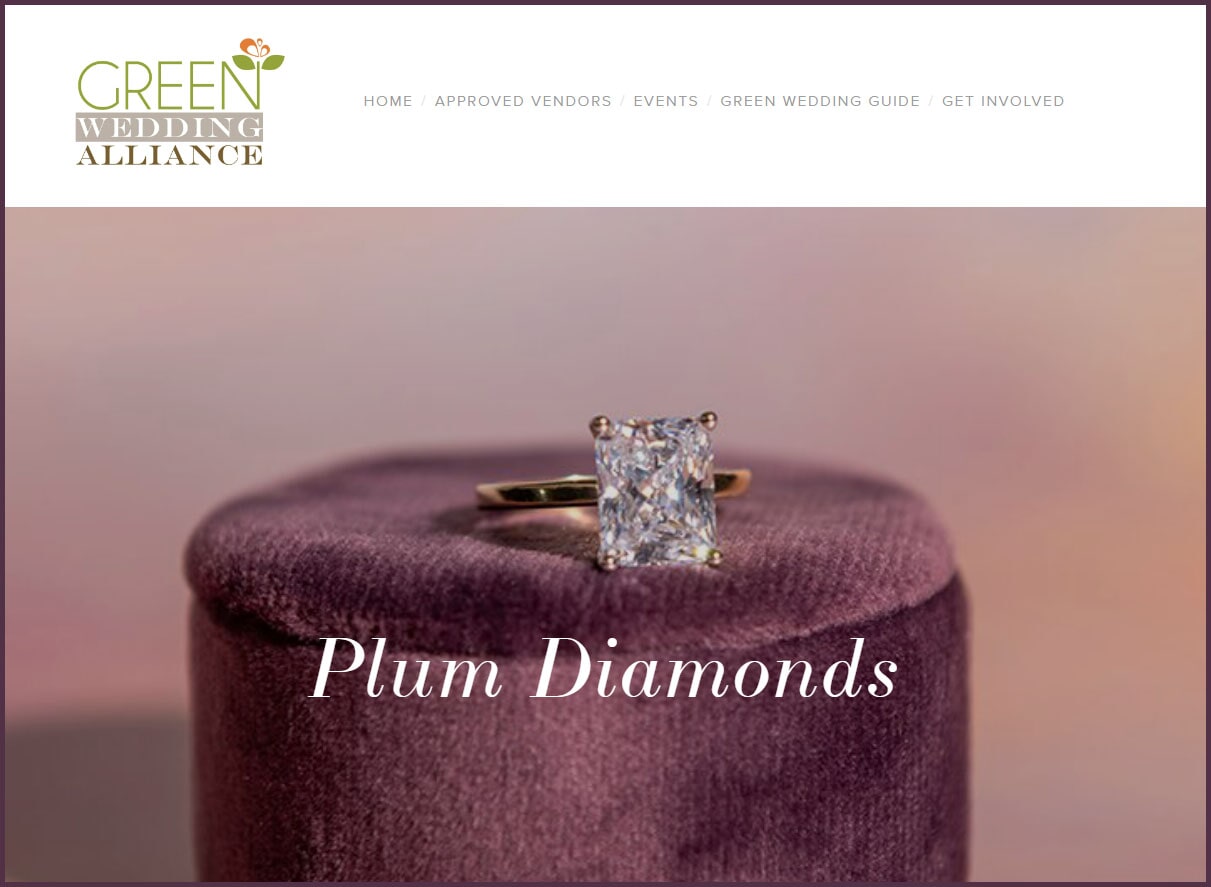 CERTIFICATION AND APPRAISAL
When buying an engagement ring online, it's essential that the diamond is certified by a reputable gemological institute, such as the GIA or IGI. This guarantees the diamond's quality and authenticity.
Additionally, ask the retailer if they provide a professional appraisal for insurance purposes. An independent appraisal might cost upwards of $100 on its own, so this is a great perk to look for.
We include a 3rd party appraisal with every engagement ring purchase. The fact that another company does our appraisals mean that you're getting an unbiased assessment of your ring.
IGI Diamond Certificate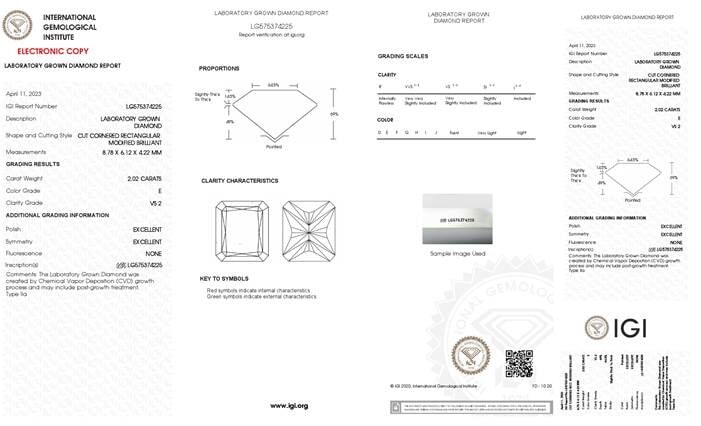 BE MINDFUL OF THE RETURN POLICY
One of the most critical engagement ring shopping tips is to be aware of the return policy. Since you're purchasing online, you won't have the chance to see the ring in person before making your decision. Ensure that the retailer offers a hassle-free return policy such as free shipping on returns and offering a full refund within 30 days of purchase.
UNDERSTAND AFTER-CARE AND WARRANTY
This is a big one, because this is a piece of jewelry you'll have for life, and some maintenance will be required. You may also need to have your ring resized, because bodies change and our finger sizes do, too!
There are several services needed to keep an engagement ring looking like new for life. You'll want to have your prongs checked to ensure they are tight and your diamond(s) are secure. And there's nothing like regular polishing and pro cleanings for keeping your ring in its best shape.
In addition, if you've got a white gold engagement ring, it will require rhodium plating (also known as "dipping") to maintain a bright white shine.
At Plum Diamonds, we're pretty obsessed with crafting quality jewelry made to be treasured for a lifetime, which makes our free lifetime care and warranty a no-brainer.
DON'T FORGET THE RING SIZE
One of the most common challenges when buying an engagement ring online is determining the correct ring size. To avoid resizing issues, request a ring sizer from the retailer, visit a local jeweler to have your partner's finger measured. If you're planning a surprise proposal and cannot measure your partner's finger, consider asking their close friends or family members for help.
Plum takes this one step further by offering a fantastic Find Your Diamond Kit for free home try-on and ring sizing. You don't even have to leave your couch to find the perfect style or ring size.
SEEK EXPERT ADVICE
Don't hesitate to reach out to the experts at Plum Diamonds for guidance during your lab diamond engagement ring shopping experience. Our experienced jewelers are more than happy to help you find the perfect ring. We offer personalized assistance via email, phone, or live chat, ensuring your questions are answered. Hey, and if you're in the Chicago area, let us know, and we can arrange an in-person visit!
CUSTOMIZE YOUR RING
One of the advantages of buying an engagement ring online is the ability to customize it according to your preferences. Many online retailers, including Plum Diamonds, offer customization options such as choosing the metal type, diamond shape, and setting style.
Look at how many ways you can customize this seemingly simple solitaire engagement ring. This allows you to create a unique and personalized ring that reflects your taste and personality.
If you're interested in customizing your Plum Diamonds ring beyond what's available online, it's no problem - we're a custom jeweler at heart and would be thrilled to create the custom lab diamond ring of your dreams. The best part is that we can do it in only about a month! Contact us to learn more.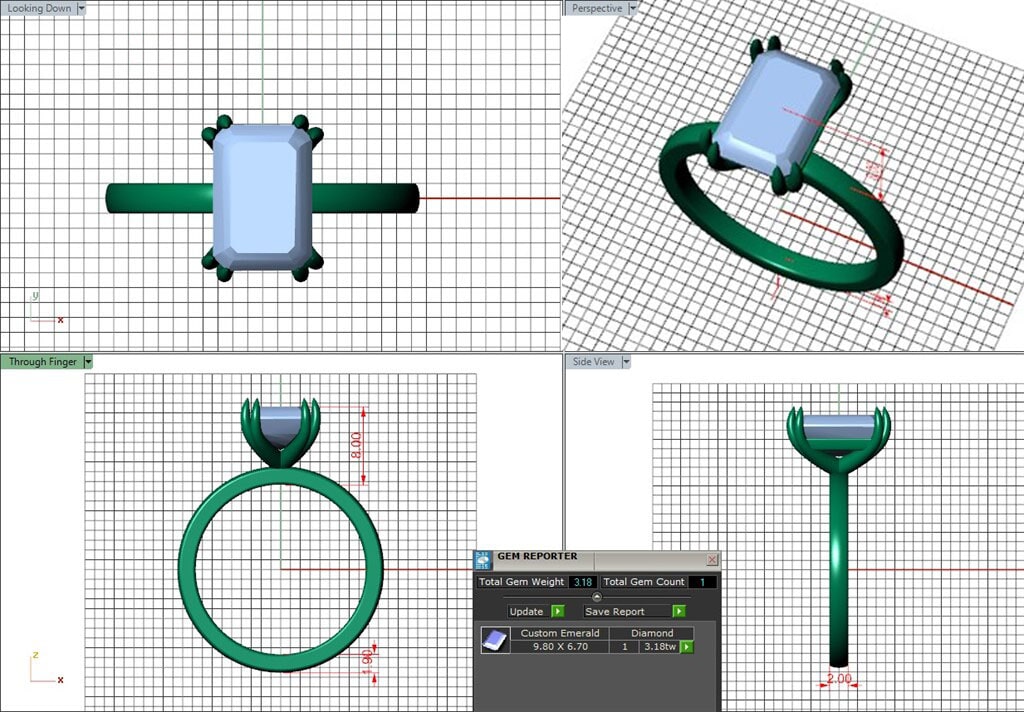 COMPARE PRICES AND OFFERS
Another benefit of engagement ring shopping online is the ease of comparing prices and offers from different retailers. Take your time to explore various websites and compare their prices, promotions, and discounts to ensure that you're getting the best value for your money.
Remember that the lowest price isn't always the best option – prioritize quality, service, and ethics.
SECURE YOUR PURCHASE
When buying an engagement ring online, it's crucial to protect your personal and financial information. After all, this big purchase shouldn't come with a sour aftertaste.
Look for a secure website with SSL encryption and choose a retailer that offers secure payment methods for a safe and secure shopping experience.
PLAN FOR SHIPPING AND DELIVERY
Since online shopping involves shipping, it's essential to plan and factor in the delivery time. Check the retailer's estimated shipping and delivery times to ensure your ring arrives well before your target date. Also, choose a retailer offering insured shipping to protect your valuable purchase during transit.
We offer free overnight shipping via FedEx, but keep in mind that all of our rings are made-to-order and will take about 15 business days to complete! We expedite whenever possible, but parts of the process just can't be rushed. Plus, it's not a great idea to cut lots of corners with such an important purchase! So, give yourself plenty of time.
CONCLUSION
Buying an engagement ring online can be a rewarding, offering convenience, flexibility, and access to a vast selection of beautiful rings.
By following these engagement ring shopping tips, you can make an informed decision and find the perfect ring to symbolize your love and commitment.
We hope you'll let Plum Diamonds be your trusted partner in this exciting journey, and we'd love to be the online jeweler to craft your ring! Start shopping lab grown engagement rings