How to Find My Ring Size: Tips for a Great Fit
WHAT IS MY RING SIZE?
Trying to get the right finger size can be tricky and tempt you to go a little crazy, but don't worry! We've got a few tips and tricks for getting the best ring size for you.
Note, we're happy to provide free ring sizing to our Plum couples. So read on and do your best, but don't fret if you need to make adjustments to any lab diamond engagement ring or wedding band down the road.
HOW TO FIND MY RING SIZE
- Use the right tool for the job. If you're doing this at home, we strongly recommend using a jeweler-approved metal ring gauge instead of a flat, zip tie-like strip. The flat strip sizer is easy to drop in the mail, so we get why people use it, but it doesn't mimic an actual ring profile shape or width (unless you like wearing zip ties). Consider our Find Your Diamond Kit or just reach out to us and we'll send you a metal sizing gauge for $8. (Shipping is free.)
- Find the best fit on the ring sizing gauge. You probably won't get this quite right on the first try, so keep going up and down in size until you've got a winner or the best option (read on to learn about half sizes).
- Your best size will fit snuggly. The best size for you will require gentle tugging to remove. You don't want to feel like it's going to fall off, and it should take some effort to get it over your knuckle.
- Write down your number, which might be an in-between size. Most ring gauges have full and half sizes, but a skilled jeweler can size a ring to a half or even an eighth of a size. So if you feel like you fall in between a whole and a half size, it's ok - you probably do. Plum Diamonds lab grown diamond rings are customizable online to quarter sizes, and if you need something else, just ask.
- It's OK if it's not a perfect fit 100% of the time. The goal is to find a great fit for your finger, which will naturally fluctuate in size. You know how sometimes your fingers are puffy and swollen (alcohol, salty foods, hot weather) and other times your fingers seem skinnier than usual (in cold weather, usually)? This is normal, and the best you can do is to find a ring size that fits and feels good on most occasions. Most importantly, your ring shouldn't fall off and it shouldn't pinch or hurt.
- Sign up to join our mailing list for more tips. Join us for Rings & Things and never miss news and specials. Sign up now.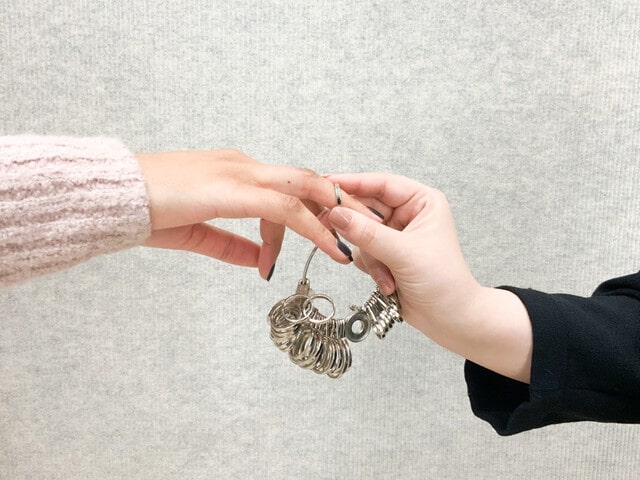 MORE SIZING TIPS FROM A JEWELER
- Your "ring finger" is next to your pinkie on your left hand. Most US couples wear their rings here.
- You should be able to tug the sizer gently without it popping right off your finger. There should be enough tension where the sizer doesn't feel like it's going to come off on its own, but where you're not worried that it's going to get stuck on your finger.
- Consider your body today, you may be wondering, why are my fingers swollen? Is it from a late night, salty foods, or humidity? If so, this is normal and your finger is a little bigger than usual. Same goes if your fingers feel small, most likely because you're very cold. Ideally, you'll be able to size your finger when you're feeling your most normal size and temperature.
- The same fingers on different hands will not measure the same. Usually the fingers on our dominant hand are slightly larger. It's important to size each finger separately.
If you still have questions or want a second opinion about how to find your ring size, we're here to help! Contact us now