How To Pair Your Wedding Band And Lab Grown Diamond Engagement Ring
FLUSH SITTING WEDDING BANDS AND CONTOUR BANDS
Can you picture the wedding bands of people in your family or friends? Is there a specific style that sticks out to you? One of the most notable differences you will see is that some people prefer having their lab grown diamond engagement ring and wedding band sitting together flushly, and others do not care if there is space between the two rings. 
One of the things that makes a flush-fitting engagement ring possible without a contour band is for the center stone to have a higher setting. It makes your center diamond taller, and the way the rings sit together is chef's kiss perfection. A tall V, cushion cut lab diamond engagement ring will be perfect for adding that sparkle and space.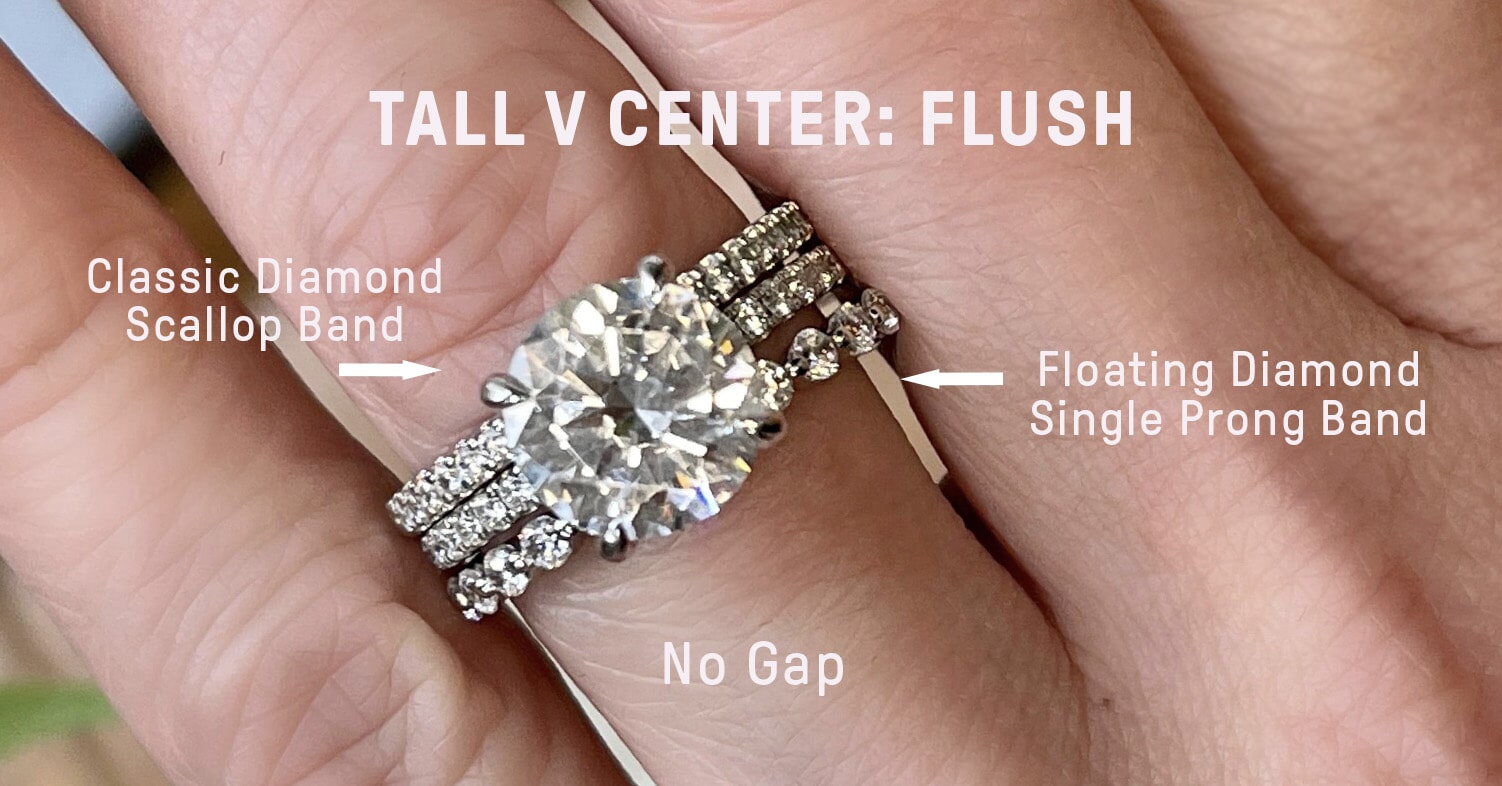 Pictured above: Classic Diamond Scallop Band, Round Tall V Setting Engagement Ring with Pave, Floating Diamond Band
Say you have your dream engagement ring and know you're after a flush fit, but you didn't want a high setting. You may want to consider a contour band. These bands are specially designed to match your engagement ring's contour perfectly. This means a curved band that blends into a straight ring.
Another great option for a lower setting that's ALMOST flush (just a tiny gap) is our low basket setting. The gap is very tiny and not one that bothers us, but if it's not for you, no problem! You've got other options for a flush fit.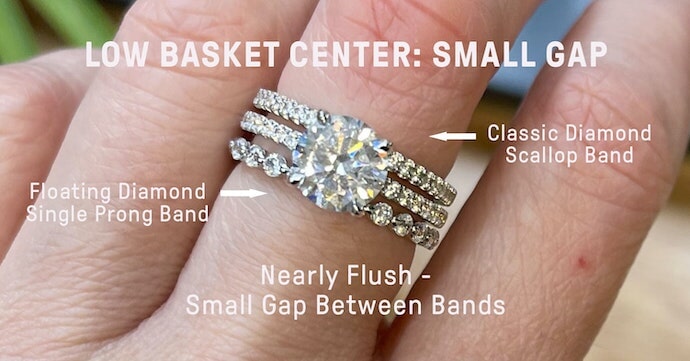 Pictured above: Classic Diamond Scallop Band, Round Low Basket Setting Engagement Ring with Pave, Floating Diamond Band
RING STACKING 
Are you a fan of ring stacking? If you know you want more significant rings in your life after the first big two, consider keeping your bands slim enough to accommodate more bling. 
And there will be other brilliant occasions to add to the stack including anniversaries, births, and any other significant milestone that deserves commemorating with a new piece of jewelry. 
Ring stacking also means you get to experiment with styling your fingers. Do you want to leave one off? Change the stacking order? The possibilities are endless, and we highly recommend trying them all. 
Another tip: have a conversation with your partner about how you'd like to mark milestones with extra rings that will become heirlooms one day. Gift-giving will be a breeze from here on out!
CONTRAST OR SIMILARITY
We suggest one of two options when it's time to choose your wedding band: going high contrast or going matchy-matchy for an intentional engagement ring and wedding band look.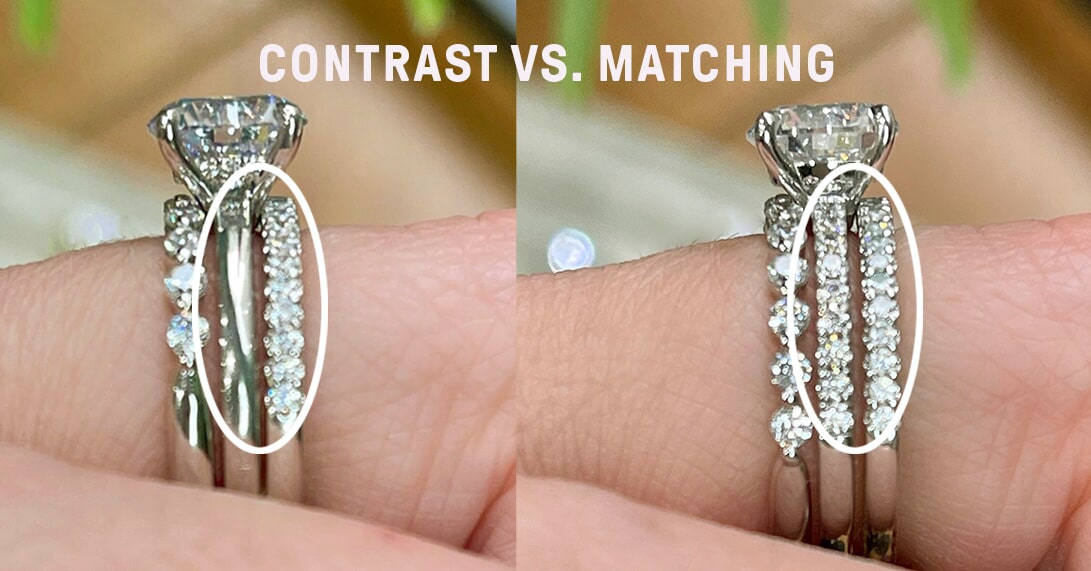 High Contrast: Consider pairing a diamond wedding band with a solitaire engagement ring for an alternating bling-then-metal look. Another idea for contrast if your engagement ring had diamond accents on the band already is to choose a wedding band with diamonds in in a different size or setting type. You really can't have too many diamond bands, and mixing sizes - even shapes - is a very chic look. 
Or, try contrasting metals. For example, you have a yellow gold engagement ring but are going platinum with your wedding band. This can work because you're playing with opposites. It's very dependent on what kind of person you are; if you lean more heavily into looking elegant in that, "Oh, this? I just threw this on," way, this is the wedding band styling for you. Consider integrating something from your engagement ring into your wedding band to create a design thread that ties the two together. 
Matching Style: Match the styles of both rings exactly to create complete harmony on your fingers. This works perfectly with classic look and still let's you add whatever you like to your stack later on.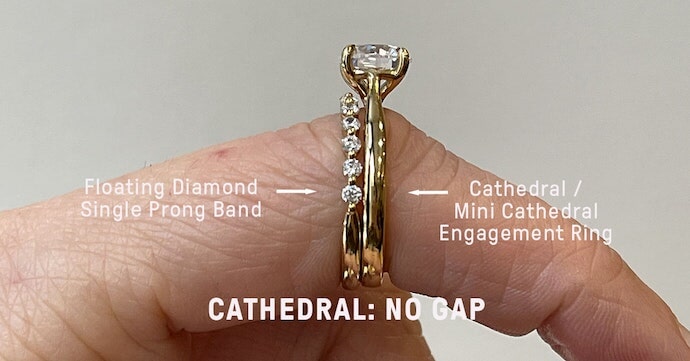 WEDDING BAND TRENDS
So, what's happening with wedding bands today? Some of the biggest wedding band trends we see at the moment are: 
- Matching with Your Significant Other: keeping bands more simple and unisex means sharing a wedding band style is easier. This is a real treat for those who love symbolism—two unbreakable bonds to fuse the two of you together. A Classic Band in matching colors allows for many possibilities. Perhaps you want the same ring with little touches of individuality? Consider adding a lab grown diamond or some texture.
- Matte Wedding Bands: a matte band is a contemporary take on the traditional wedding band. The subtle texture is a real statement and allows the focus to be on the profile. Other textures are also having a moment right now. We have a soft spot for rope designs and Plum is happy to customize any rings to have a brushed or matte finish.
- Contour Bands: more on this later, but the elegance a contour band provides by making the wedding ring and engagement ring shine as a duo is unmatched!
A HISTORY OF WEDDING BANDS? 
Your wedding band is likely to feel as sentimental, or more so, than your engagement ring. It is a piece of precious metal imbued with romantic significance and should make your heart take a little happy tumble whenever you play with it while going about your day. 
Did you know that our first instances of wedding bands go back to Ancient Egypt? They placed braided reed or hemp rings on the fourth finger of the left hand, the "vein of love". These rings represented commitment and love. The circle was seen as a powerful symbol of eternity.
If we skip forward to the Byzantine empire, wedding rings were often engraved with figures symbolizing the loving couple. Personalized messages and verses as engravings became all the rage. To this day, many couples engrave their rings with powerful words or symbols. For example, a short line from a love letter, an important date like the wedding date, or their partner's name.
ABOUT: PLUM DIAMONDS 
Here at Plum, we're your jewelers of choice if you're after beautiful, responsibly sourced rings with a difference. We believe crafting an impeccable ring doesn't have to cost the earth for the environment or your wallet.
We only work with lab-grown diamonds to give you more bling for your buck. Additionally, we offer a free lifetime warranty to ensure you can treasure your piece forever. You get your car serviced, so why not your most important jewelry pieces?
We also craft helpful emails! Sign up to join our mailing list. Subscribe to our newsletter and never miss news and specials. Sign up.
If you have questions or need help discovering the perfect lab grown diamond engagement ring, we're here to help! Contact co-founder Kristy now.