Engagement Ring Styles To Keep In Mind in 2022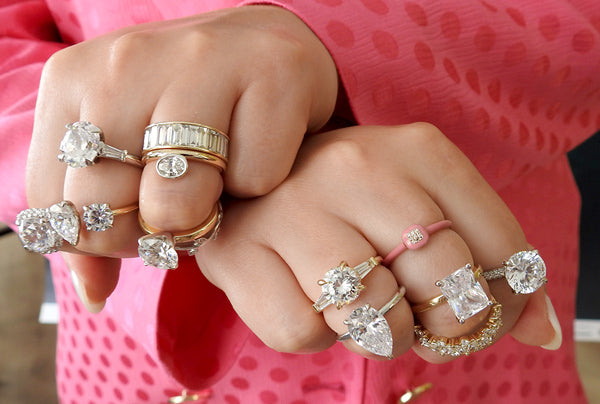 Are you an on-trend person or more of a classics-never-go-out-of-style type? No matter what type of engagement ring is calling your name, it never hurts to have a little browse through today's popular engagement ring styles.
Here at Plum Diamonds, we're all about getting you the engagement ring of your dreams with the added peace of mind of being 100% conflict-free.
Without further ado (but plenty of 'I do!'), let's get into the engagement ring diamond trends of 2022. We live and breathe diamonds over here at Plum HQ and love keeping up with what's on-trend.
Grab your drink of choice, a pen, and some paper. You may want to take notes!
Plum Tip: Your engagement ring encompasses you and your love in one stunning piece of jewelry. Diamonds are forever, and you deserve the ring that will make you feel a million bucks (without costing the earth). If popular engagement ring styles don't strike your fancy, kick trends to the curb.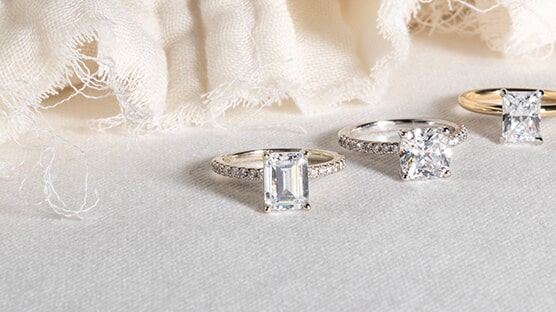 Emerald Cut Engagement Rings
Are you the type to make a splash with your sophisticated and bold style? Then this show-stopper of a diamond will be just what the diamond doctor ordered.
Emerald-cut diamonds dazzle with their distinctive rows of facets and rectangular, elongated shape. Perfect for lovers of geometric shapes who know that classic styles are never dull. We can't think of a better cut to show off a high-quality, high-clarity-grade diamond.
Aand if you're leaning towards something with a bit of a vintage feel, consider emerald cut rings, which bloomed in popularity during the Art Deco period. A pared-down, modern version will really let the gorgeous, clean lines of the diamond faceting sing. We're inspired by the minimalistic look of an emerald cut as a solitaire a or even spruced up with a diamond halo. 
Plum Tip: Emerald cut diamonds are usually unforgiving when it comes to clarity. Stick to VS+ clarity grades to show off this art deco diamond ring.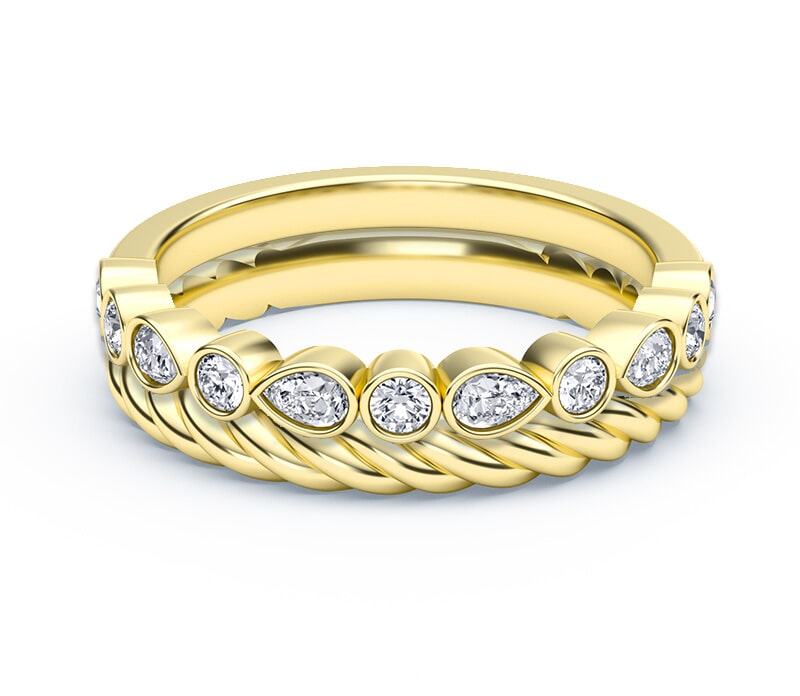 Gender Neutral Engagement Rings
Are you less into the frilly feminine and more into simple, gender-fluid lines and designs? You're in luck because the jewelry world is finally taking note and making these bold, chunky rings more readily available.
Have you considered one (or two) of our 'Let's Make It Official' wedding bands as a unique alternative to a dainty engagement ring? Whether sans-diamonds or with accent diamonds dotted around its simple shape, our unique customization process allows ladies, gents, and thems to get exactly what their heart desires.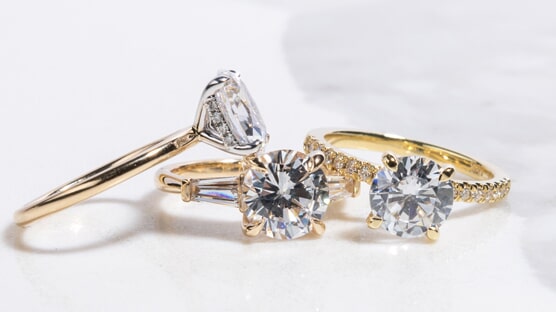 Vintage and Antique Inspired Engagement Rings
Do you adore the look of vintage engagement rings? So do we, but many people feel uncomfortable wearing an antique ring without knowing its providence. While there's no official rule on 'used' engagement rings being bad luck, you can enjoy having something new that looks like something old.
Plum doesn't offer vintage pieces, but we've worked with many couples interested in vintage through the years. We're constantly inspired by art deco and even styles from the 80s and 90s.
For example, the timeless Harry Winston-inspired three-stone with tapered baguettes is regularly requested, and we answered with our classic three stone with tapered baguette design.
Vintage diamonds are truly the most sustainable way to purchase diamonds because they are secondhand, already in circulation. They also tend to look warmer with chunkier faceting patterns that many people love. Think, soft candlelight glow of yesterday's diamonds vs the brilliant, fiery cuts of today. Perfect for many vintage-loving romantics.
However, many couples 
interested in vintage diamond rings change their minds after inspecting the antique diamonds, which are often less sparkly than their newer counterparts. This is just because years ago, facets tended to be chunkier and the same cutting and polishing technology didn't exist. In addition, some vintage diamonds are chipped and damaged, which can also hamper their brilliance. 
That's when
lab grown diamonds
usually enter the conversation, because they offer many of the same sustainability benefits and are available in whiter, brighter, cleaner cuts. For example, with the super-hot Art-Deco-inspired emerald cut - and its long, mirror-like facets that don't hide imperfections - it's ideal to go with a high clarity grade.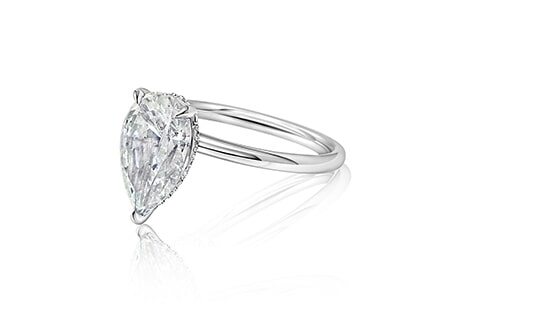 Pear-Shaped Diamond Engagement Rings
Are you looking for more va va voom for your hard-earned money? Then a pear-shaped diamond engagement ring may be the winner for you. Pear-shaped diamonds combine round brilliant and marquise cut for a teardrop that will only bring tears of joy.
Pear cuts were everywhere in the late 80s / early 90s. Unlike the emerald cuts and three stones (styles that never really went away), we did see a decline in pears for some time. Not anymore, they're back and super popular again. Just in less of a Madonna-chunky-jewels way and more in a modern pear cut style with a delicate hidden halo.
Like the Toi et Moi ring, the pear-shaped diamond has long been associated with royalty, the noble, and the Hollywood kind. The Taylor-Burton diamond was a 69-carat pear-shaped diamond! 
Pear-shaped diamonds are more forgiving when it comes to clarity grades, so feel free to consider diamonds on the lower side of eye-clean. When you're buying from us, you can rest assured we do not diamonds that fall into the lowest clarity grades. Whether you're on spouse number one or eight (like Liz Taylor), we believe you deserve the best.


Stacked Engagement Rings
When your beloved gets down on one knee, you will be basking in the warm glow of love and wedding planning, but a wedding band will join your engagement ring on your ring finger. One of the primary diamond engagement ring trends is to plan your stack from the get-go.
One of our favorite combos for a dazzling stack is a perfect pavé cathedral engagement ring joined by an eternity ring band or other diamond band - even in contrasting metal colors. Look at that, double the bling to accompany you on a lifetime of joy. Let a sparkling trail of diamonds lead you onto a bright future together.


Toi Et Moi Engagement Ring
How's your High School French holding up? We won't tell Mademoiselle Depardieu that you needed a refresher. Toi et Moi is French for you and me. How romantic is that?
This sentimental classic gets its beauty from combining two different, complementary gemstones to create a harmonious ring. In other words, you and your betrothed are building a life together despite being your person.
The original Toi et Moi ring graced the hands of royalty. The 1796 marriage between Napoleon Bonaparte and Josephine caused a stir due to various scandals. Still, we like to remember them for the sapphire and diamond Toi et Moi ring Napoleon gave to his future empress. Two pear-shaped diamonds ended up watching $950,000 due to royal provenance in its most recent auction.
At Plum, we're all about making the custom design process as simple as possible. Contact us today to discover how we can make your dream ring come to razzle-dazzle life.


Plum Diamonds: Find Your Diamond Kit
Your mind may be spinning with all of these different trends and styles. How are you meant to figure out what will suit you via a computer screen?
Thankfully, we offer a free home try-on and ring sizing kit that will allow you to discover your preferences from the comfort of your home.
One of the biggest trends in engagement rings in recent years is picking the ring together with your beloved. You get the ring of your dreams and do not need to let it out of your sight to be resized. After all, you are planning your happily ever after together.
Get a manicure, order champagne, and make a (date) night of it!