Shopping For An Engagement Ring Together: Good Idea Or Not?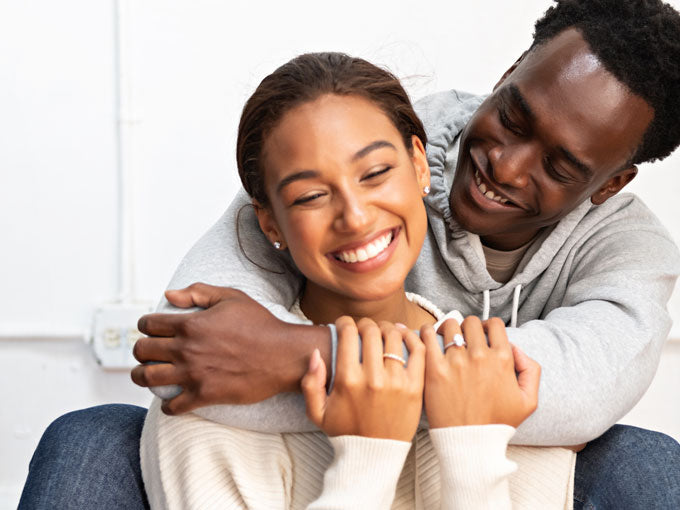 SHOULD WE SHOP FOR A RING TOGETHER?
Jewelry shopping is a bit of a nerve-wracking experience, right? Apart from when you buy a car or a house, it is likely to be one of the most intense monetary decisions in your life.
When you add engagement ring shopping into the mix, many people start breaking out in a sweat. What if my partner doesn't like my ring choice? How do I make sure it can stand the test of time? Can I convey my love through a piece of jewelry?
The pressure to get it exactly right is on! One of our favorite ways to quell some of your worries is by going engagement ring shopping together - but then maybe leaving the proposal itself a surprise!
This article will tell you about the upsides and downsides of going ring shopping together. By the end, you'll be able to make an informed choice on how to shop for an engagement ring, together and apart
HOW MUCH DO YOU KNOW ABOUT ENGAGEMENT RINGS?
You can be brutally honest here. If the most you know about rings is that they're round and go on your finger, you may not be the best bet for choosing all on your own.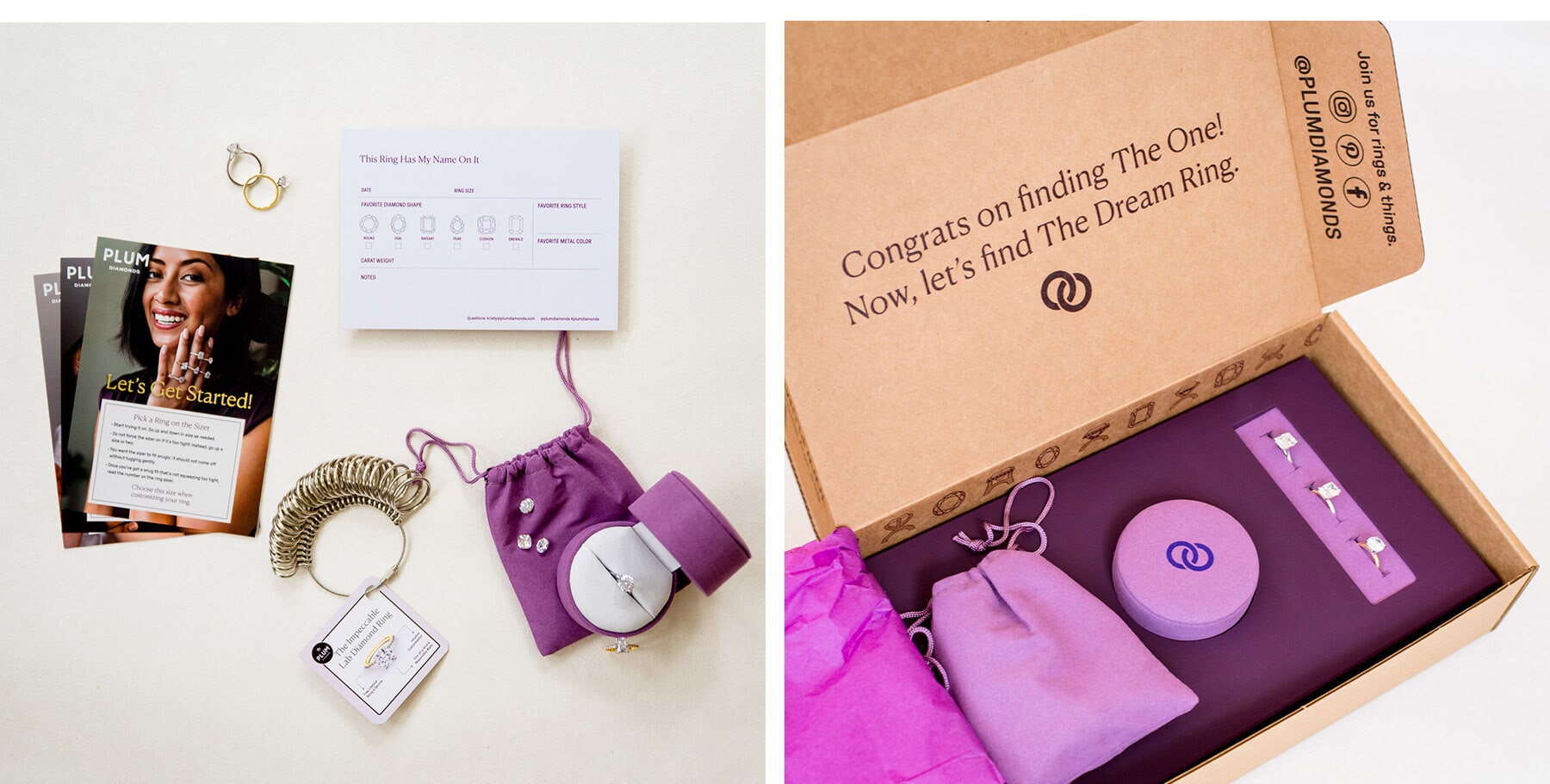 Order a personalized at-home try-on kit
Do you know the 4Cs of diamond quality? What about the latest trends, and which ones are likely to stand the test of time? At Plum Diamonds, we're the experts—so you don't have to be—but do you know what your partner actually wants in an engagement ring?
There's a big difference between knowing their favorite takeout order vs. what kind of ring they want gracing their finger for life.
This is especially important if your future wife has had a Pinterest board dedicated to their engagement ring of choice for years. Note: this board may be a secret, and you may have never seen it!
ARE SECRET PROPOSALS EVEN THE NORM?
Have you ever had one of those super public cringe proposals pop up on your YouTube page? There's a person on one knee, proposing in front of an entire crowd of people, and the person they're asking to marry looks like they had no idea what was coming, and they don't look very pleased about the possibility.
Don't worry that won't be you! However, many relationship therapists advise that a conversation about plans to propose should be had before popping the question. Asking whether or not you want to go ring shopping together could be part of this conversation.
By the way, only 35% of people were truly surprised by their proposal. One in four couples discusses their proposal plans before anybody is down on one knee. You guys are a team; it makes sense to talk about the next part of the game!
HOW TO SHOP FOR AN ENGAGEMENT RING AS A COUPLE
You've decided to go ring shopping with your girlfriend or partner. What now?
Choosing a ring together doesn't mean you're sacrificing romance. We've put together our three favorite ways to shop together while keeping the passion and surprise burning bright!
OPTION #1: TEMPORARY RING
One of the ways you can keep the proposal a complete surprise is to have a temporary ring (a candy ring pop is a great option) or a note in the box that says, "Will you go engagement ring shopping with me?" This way, your betrothed gets all the squealing and butterflies without the stress of potentially not liking the ring.
OPTION #2: WINDOW SHOP
Are you ever downtown, wherever you live, and wandering past jewelry shops? Casually talk about, "Which one would be your dream ring?" Many people will take the opportunity to tell you about their preferences for lab-grown engagement rings, radiant-cut diamonds, and potential dislike of pear engagement rings. Open up your ears and take mental notes. You can always go back to the shop and get their chosen ring. Alternatively, you can incorporate everything you learned into choosing one on your own. Teamwork makes the engagement dream work!
OPTION #3: SURPRISE ENGAGEMENT RING SHOPPING DATE
This one is our favorite way to go. Dim the lights, cook a beautiful dinner, and while cuddling up on the couch, tell them that you have a date surprise. Today, the two of you will pick an engagement ring together.
After they get over their jitters and excitement, pull out Plum Diamond's Find Your Diamond Kit. For a $100 deposit, you can experiment with carat weight, diamond shape, and finger size. Many people get a little nervous trying to choose an engagement ring in a jewelry store with an attendant right there. This way, you can look at it in all different home environments and play together.
When your perfect engagement ring arrives, you get to plan another surprise and can propose the way the movies say you should. The very best of both worlds!
REASONS YOU SHOULDN'T RING SHOP TOGETHER
As much as we love the idea of ring shopping together, you shouldn't go down this route if your partner has said they don't want to ring shop together. Likewise, if the surprise is the most crucial part for your soon-to-be spouse.
Still, even if your partner wants the ring to be a surprise, you can still do a little snooping to see if you can get ideas. Check her Pinterest boards, maybe ask a trusted friend. And if you've got nothing to go on? You can either shop for what you love or consider a classic round diamond ring - we don't think you can go wrong with this timeless style.
SHOULD YOU RING SHOP TOGETHER?
It is entirely up to you!
If ring shopping with your girlfriends sounds like the way to go, we hope this article has quieted some of your fears about missing out on romance and tradition. Please do not listen to your great Aunt Margret and her many opinions about customs. Great Aunt Margret is not the one in this relationship.
At Plum Diamonds, we are about making engagement ring dreams come true. Whether you shop together or on your lonesome, our impeccable lab grown diamonds are easier on the wallet and the eyes and are less impactful to our beloved earth.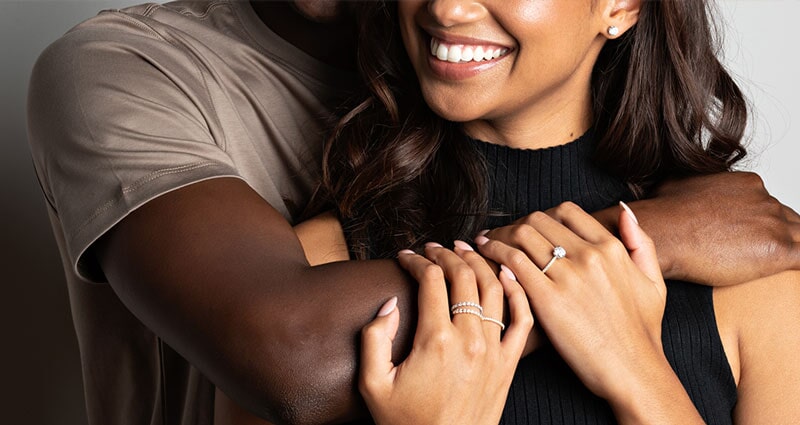 We craft great emails, too! Sign up to join our mailing list. Join us for Rings & Things and never miss news and specials. Sign up.
If you have questions or need help shopping for the perfect diamond engagement ring, we're here to help! Contact co-founder Kristy now.