Why More Couples Are Choosing Ethical Jewelry
CHOOSING ETHICALLY SOURCED JEWELRY
Do you enjoy treating yourself and your loved ones to a little something sparkly on special occasions? Whether you're all about that diamond bling or into more pared-back jewelry — to borrow some melodic inspiration from the late Olivia Newton-John — "Let's get ethical, ethical!"
"Ethical jewelry" are words on everybody's lips, but are ethical diamonds even possible? They sure are, and we promise they're within reach.
This article will introduce you to the concept of ethical, sustainable jewelry, explain why this is important for our conscience, our planet, and our wallets, and introduce you to our favorite ethical diamond solution: lab-grown diamonds.
WHAT IS ETHICAL JEWELRY?
Ethical jewelry can be a term companies interpret in different ways. Whether you're a consumer of fine jewelry or a business looking to invest more time and energy into creating the most ethical product possible, it's essential to be clear on what you're dealing with.
In short, ethical jewelry refers to jewelry made of traceable source materials with no harmful impact on the people producing it or damaging effects on the environment.
That sounds pretty simple in theory because sustainable jewelry:
- has a minimal environmental impact
- is conflict-free
- pays living, fair wages
- provides safe working environments
But the reality can be more complex. If you've ever done a deep dive into sustainable fashion, you've probably heard of greenwashing. It's the act of making consumers feel like they're buying an environmentally responsible product by making unsubstantiated claims. Yikes.
At Plum Diamonds, we kick greenwashing to the curb. Just some of the ways we ensure our jewelry is ethical are:
- Responsible Jewelry Council (RJC) Certification: our manufacturing facility is a certified member of RJC, which means we adhere to stringent rules surrounding sustainability and ethics and are regularly audited.
- Green Wedding Alliance (GWA) Membership: we are proudly recognized by the GWA for producing ethical diamonds without environmental, economic, or aesthetic trade-offs.
- Supply Chain Transparency: we own our own and control the operation of our jewelry manufacturer, which means our supply chain is transparent, and we know exactly what goes on behind closed (regularly audited) doors.
- Lab-Grown Diamonds Only: we stay away from even having to think about mined diamonds and global conflicts by choosing lab-grown diamonds sourced from trusted suppliers.
Sustainability and ethics are buzzwords for many people, but we always do our best to integrate ethical and environmental considerations into our everyday operations, business planning, and decision-making. Why? Because it's the right thing to do.
Side Note: the most ethical and sustainable jewelry decision you can make is to choose something already in circulation, for example, your great-grandmother's engagement ring. A little low on heirlooms? We're your next best option.
DOES SUSTAINABILITY PLAY INTO ETHICAL JEWELRY?
Absolutely! Sustainability should always be a consideration that goes hand in hand with ethical jewelry sourcing. In our minds, jewelry that isn't sustainable isn't ethical.
That's one reason why all of our jewelry has a free lifetime warranty and yearly servicing included. The more jewelry we keep in tip-top shape and in circulation, the more sustainable we can be.
WHY IS ETHICAL JEWELRY IMPORTANT? 
The diamond and jewelry industry has had a serious historical problem with exploiting people and the environment. You don't have to have seen Leonardo DiCaprio in Blood Diamond to have heard of diamonds in war zones being mined to further finance wars. Today, a major culprit is the Russian government. 
It's time to get away from this dark chapter and choose jewelry that can make your heart and your conscience happy.
WHY ARE COUPLES CHOOSING ETHICALLY SOURCED DIAMONDS AND JEWELRY
It would be easy to casually exclaim that couples choose ethically sourced diamonds and jewelry because they're good people. For many, it goes beyond that.
Some reasons for making this critical, ethical choice are:
- Care for the Environment: if we open our ears and listen to environmental activists and politicians, we know that our environment is in trouble. The uptick in environmental disasters isn't our only warning sign. Your jewelry should be a source of joy, not concern for further damaging the planet.
- Reduction of Carbon Footprint: are you ride-sharing? Taking the bus when you can? Buying local? Focusing on recycling? Then you probably care about reducing your own personal carbon footprint. A sustainable engagement ring is another way you can make a positive impact.
- No Mass Production: your love is as unique as your piece of jewelry should be. You are guaranteed a more personal ring when you work with smaller brands with a more transparent supply chain. With no mass production in sight, you can freely exclaim, "I do!"
- Too Personal for Ethical Doubt: we carry our jewelry close to our skin, imbuing it with personal meaning and energy. It may sound a little 'woo,' but something as personal as that should not have the destructive energy of conflict and strife attached to it. That's not a good start to a lifetime of happiness.
- Conversation Piece: do you want to get people talking about fair treatment in the diamond industry? Your lab-grown diamond is a perfect chance to start a conversation about sustainability next time someone comments on the fantastic bling on your ring. "Oh, this little thing? Conflict free, can you believe it?"
ABOUT: PLUM DIAMONDS 
Here at Plum, we are proud of the couples that choose us to be a part of their love story. Our work with recycled metals and lab-grown diamonds allows you to feel great about your ring today, tomorrow, and forever.
Every ring here is made to order, meaning you can expect the best in quality and service. You start with a timeless ring style of your choice, customize it to your heart's content, and finish with the perfect lab diamond. Easier on your wallet and your conscience.
Do you have any questions about our process, supply chain, or commitment to doing right by people and the environment? Get in touch today! Transparency is the name of the ethical jewelry game.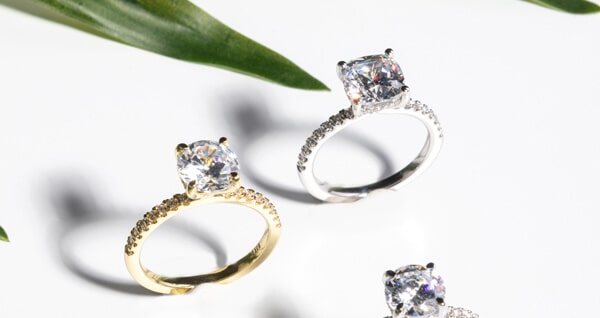 We also craft helpful emails! Sign up to join our mailing list. Subscribe to our newsletter and never miss news and specials. Sign up.
If you have questions or need help discovering the perfect lab grown diamond engagement ring, we're here to help! Contact co-founder Kristy now.