Spotted in Forbes: Plum's Pear Halo
At Plum Diamonds, we believe that engagement rings should be as meaningful and radiant as the love they represent. Our Pear Halo Engagement Ring, recently featured on Forbes' "Best Engagement Rings to Match Every Bride's Style," effortlessly captures this ethos.
The Plum pear shaped engagement ring was in excellent company in Forbes' sparkly line-up. Pear shaped-diamonds, the perfect blend of marquise and round cut, can offer a long, lean look with a twist. This lovely cut is somewhat of a rarity among different diamond cuts, accounting for only about 4% of diamonds available today. Their distinctive tear-drop (only happy tears!) form often makes them look larger than their actual carat weight. For anyone looking for amazing value, consider a pear cut for this reason.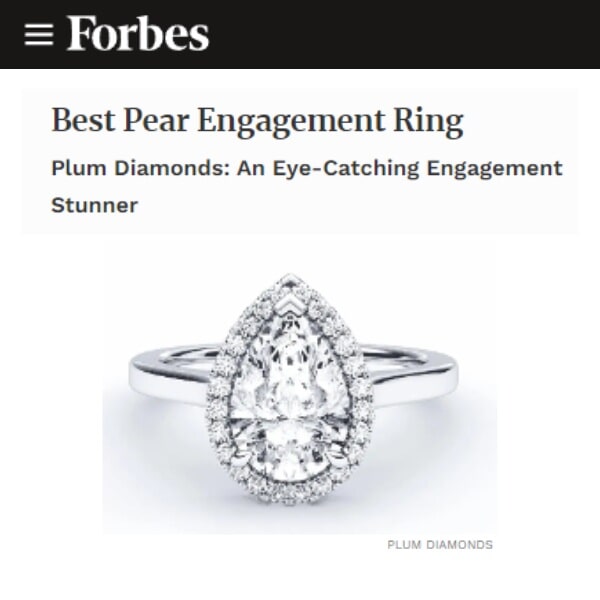 We personally love the simple design of our pear halo engagement ring. The center stone is set in a cathedral style, perched to spotlight its brilliance. The delicate halo of pavé diamonds circling the pear-shaped lab diamond amplifies its elegance, creating a dazzling spectacle of sparkle and fire.
The ring also demonstrates our commitment to responsible sourcing. Of course, all diamonds are lab-created, underscoring our dedication to a sustainable and ethically conscious approach to fine jewelry.
Check out our pear engagement rings to celebrate your unique love story. Contact us if we can help! We'd love to create your perfect pear engagement ring.