The Heart of the Deal by Lindsay MacMillan: Plum Collab & Celebration
LOVE ON A DEADLINE
The pressure to find love at the "right" time in the "right" way is real. For author Lindsay MacMillan's character Rae in The Heart of the Deal, the pressure is not only real but also agonizing. Rae is a young, ambitious investment banker who's crushed by the realization on her 25th birthday that she must find a husband and settle down "ASAP" in order to have 3 kids and achieve the perfect life within her very strict timeline. She has no prospects and is in despair over her "romantic recession."
Lindsay writes fiction that's partially based on personal experience from her days as a Manhattan investment banker fresh out of college, working 90 hour weeks at Goldman Sachs. She was drained and unfulfilled. Lindsay's heart was in writing. After several years grinding it out, she left the banking world once she landed a book deal for her debut novel, The Heart of the Deal.
The Heart of the Deal is about feeling the pressure to follow a very specific set of rules to find love and fulfillment - and then taking those rules and throwing them out the window to follow your heart instead. Rae learns that resolving her "romantic recession" is less about executing a strategic plan and more about exploring what's really important to her: messy, imperfect relationships, a creative career path, and persevering despite life's unscripted challenges including mental illness.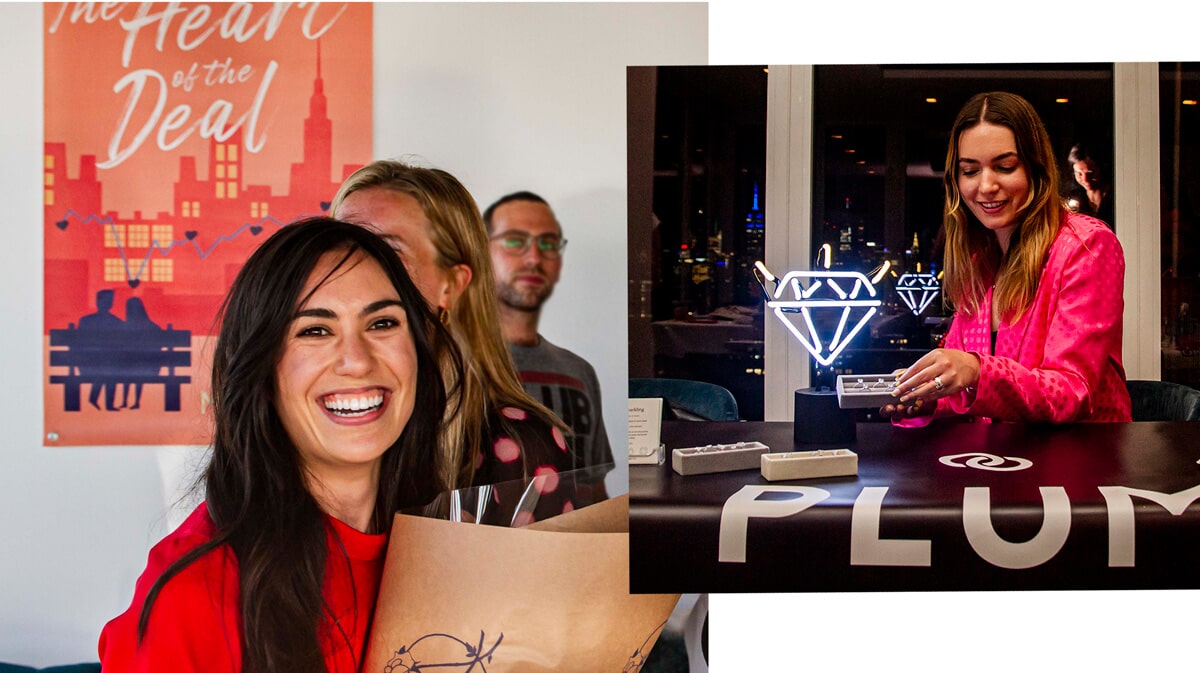 THE PLUM CONNECTION
Plum Diamonds was thrilled to support Lindsay and The Heart of the Deal in its first week of publication at Lindsay's launch party. We had a blast at Lindsay's chic Nomo Soho hotel event, where we partied with readers, sized fingers, and cleaned guest's rings (pro tip: Dawn dish soap!).
Fortunate for us, her outlook on Plum is bullish. As Lindsay shared on Instagram, "I don't like the environmental toll of mining diamonds from the earth, and I can't get over spending such an exorbitant amount of money on a ring. ("Invest in an index fund instead!!" the finance side of me shrieks whenever I see grotesque ring prices.) And the poetic part of me always felt like true love shouldn't have to hurt the earth or break your budget. I was a bit of a diamond skeptic, I guess. BUT then I learned about lab grown diamonds, and particularly, the stunning rings from @plumdiamonds."
Now an "Authoprenuer," Lindsay's a role model for women and girls who aspire to go after creative pursuits professionally and on their own terms. She puts herself out there, takes risks, and WORKS HARD. From writing the novel to securing an agent to becoming a most-watched TedX speaker and promoting the book launch, Lindsay's path to becoming a published author has been nothing short of inspiring. You can read more about Lindsay's journey in her interview with Katie Couric (thank you for the Plum shout-out, Lindsay!) and in her Insider article.
We at Plum share Lindsay's passion for tossing love's rulebook out the window, marching to the beat of your own drum, and persevering despite the challenges life throws our way. Just ask our co-founder Kristy; she navigated death and divorce in her 20's, zigzagged her way through a different country and career, met the love of her life, had kids after 35 (25-year old Rae would be horrified!), and then launched her own dream, Plum Diamonds.
Lindsay's a bright star, and we can't wait to watch her become a bestselling author; her second novel is already in the works to be published next year by Penguin Random House. You can buy your copy of The Heart of the Deal at Barnes & Noble and wherever books are sold. (Hurry up though, The Heart of the Deal sold out in its first week of print!)
"I'M IN A ROMANTIC RECESSION" - RAE, THE HEART OF THE DEAL