5 Jewelry Trends that Will be Hot this Summer
As passionate and certified fine jewelry nerds, we always like to keep up with the latest jewelry trends. We like to joke that to be on the Plum Diamonds team, you must have a constantly revolving list of beautiful sparkly things on your phone.
Get your summer manicure ready (we're partial to OPI's Bubble Bath) and dive into our favorite summer jewelry trends, rain clouds, or diamond shine!
Plum Tip: we may be known for our stunning engagement rings and wedding bands, but we also make customizing easy. That means you can treat yourself to some new Summer stacking diamond bands without telling anybody they came from the 'Let's Make it Official' section.
What Makes Good Summer Jewelry?
Summer jewelry trends come and go, but a few Summer bling rules come around every season.
Jewelry you can sweat (and swim) in: it's a sorry fact of life that rising temperatures also mean more sweating. Grab your deodorant of choice and avoid anything that isn't solid gold, quality gold-filled, platinum, or sterling silver.
Dainty Jewels: there's something about summer that makes most people gravitate towards things that are dainty and breezy.
Minimal Effort: the stuff you don't have to untangle from your body after a long day enjoying the sun. Imagine French girl chic and pretend you've just thrown this ol' thing on.
5 of the Hottest (Sizzling) Jewelry Trends of Summer 2022
Without further beating around the palm tree, here are the top trends for Summer '22.
1. Ring Around the Rainbow
Summer officially kicks off with Pride month, and joining a celebration of all things LGBTQ+ are gems in every color of the rainbow. One of the season's central themes is prominent colored gemstones that make a statement.
Wait, didn't we just say Summer was about uncomplicated La Dolce Vita? This is why the bigger the bling, the brighter the gems, the more you tone down your outfit. Imagine a linen dress and the biggest gemstone in the biz. That's perfect summer cool.
Alternatively, match your outfit to your jewelry colors. Look at that lady in red with the magnificent rubies dripping from her earlobes. We want to be seated next to her at the next summer dinner party. Make sure to practice your conversational skills if you're going big on the bling. You can't let the jewelers down by not being equally sparkling!
2. Gold is For All Day, Every Day
Gold jewelry was long relegated to the sidelines of cool-girl chic, but during the summer months, yellow gold jewelry becomes a wardrobe essential.
Do you want to wear all the gold without having it weigh down you and your summer style?
Opt for gold jewelry that makes use of different textures. Playing with textures (and maybe even mixing metals) makes you still look slick and edited rather than overwhelmed by a sea of gold. Like life, you have to take the rough with the smooth.
Our Let's Make It Official Wedding Band is here to do double time with its timeless 18k yellow gold rope pattern or with a little sparkle with mixed bezel shapes. The best part? We use recycled materials wherever possible, meaning you can get your bling on without neglecting your morals.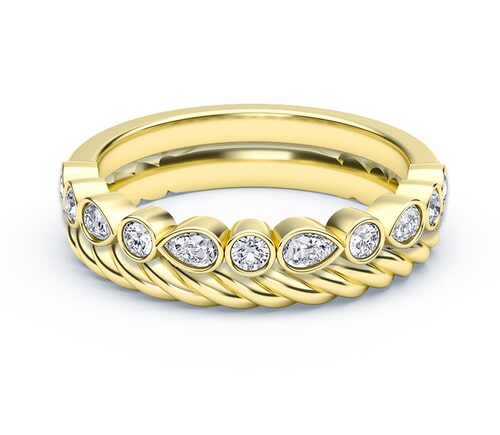 3. Keep It Classy with Pearls
Pearls aren't just for your grandmother and her friends at the yacht club anymore. Summer jewelry is all about effortless shine, which is why pearlescent earrings, bracelets, and necklaces are the perfect summer fling.
Next time you're hanging out at the beach and looking into the depths of the waves, just imagine how many treasures are hiding in the deep blues. We are huge proponents of lab-grown diamonds, and cultured pearls are an excellent way to get the pearlescent finish of your oceanic dreams.
Don't feel like you need to go too conservative with your OOTD when you're donning your pearls. Pair simple studs with cut-off jeans and a worn-in t-shirt. Bonus points if the shirt is from when your dad saw the Ramones live.
4. Oooh, La La Baguette Rings
Do you know how less is more for the summer? Psyche, sometimes more is more for the fashionable elite. Have you been admiring your besties' baguette eternity ring? No wonder with all that sparkling ice. It truly does add a touch of extravagance to any outfit.
With this Twisted Band Engagement Ring, you can say 'I do' to someone (else) special or yourself every day. Get double the sparkle via the twisted band.
Our favorite part about choosing a lab-grown diamond is that you get real diamonds without the history of human rights abuses. Lab-grown diamonds are the perfect choice for anybody who cares about the planet and its people (and their wallet).
5. Make a Statement
What do you want your summer jewelry to say about you? Let it speak for you by choosing pieces that tell a story.
An Emerald Cut Diamond Ring with a halo cathedral says you're a classic person who loves the finer things in life. It combines the emerald cut's history with the modern take of the cathedral halo. That much shine makes a statement whether you roll up at the beach or the club.
About: Plum Diamonds
Have you found the perfect summer jewelry accessory to take you into 2022?
No matter what you're looking for, at Plum Diamonds, we're your one-stop-shop for ethical and sustainable diamonds. We aim to craft an impeccable ring you'll always feel great about this summer and forever.
Besides the fact that our team is knowledgable beyond belief and loves helping couples find the bling of their dreams, they are also all about customization. We know you're no cookie-cutter type. Contact us if you haven't found exactly what you're looking for.
Remember that every Plum ring includes free lifetime care and warranty service. Once a year, contact us for your ring's Plum Diamonds spa treatment. Book yourself in for a massage and spa day while your ring is out of commission. That way, you will be reunited feeling brand spanking new.