Featured on Martha Stewart's Best Lab-Grown Diamonds
Written by Kristy Cullinane, Plum Diamonds CoFounder
My mother LOVED Martha Stewart; Martha was her contemporary and homemaking idol! I think my mom even had the same haircut, come to think of it. She did her own version of  "Martha Martha Martha" as borrowed from The Brady Bunch, and she liked to infuse Martha-isms into everything she did. "It's a good thing" should have been tattooed somewhere Mom's body, she repeated Martha's famous catchphrase so often.
So, my experience growing up surrounded by Martha Stewart has made our latest coverage in Martha Stewart Weddings even sweeter!
Plum Diamonds is honored to be featured in Martha Stewart Weddings' "The 9 Best Places to Buy a Lab-Grown Diamond Online" article.  It featured our Oval Lab Grown Ring with Diamond Band, a style I absolutely love!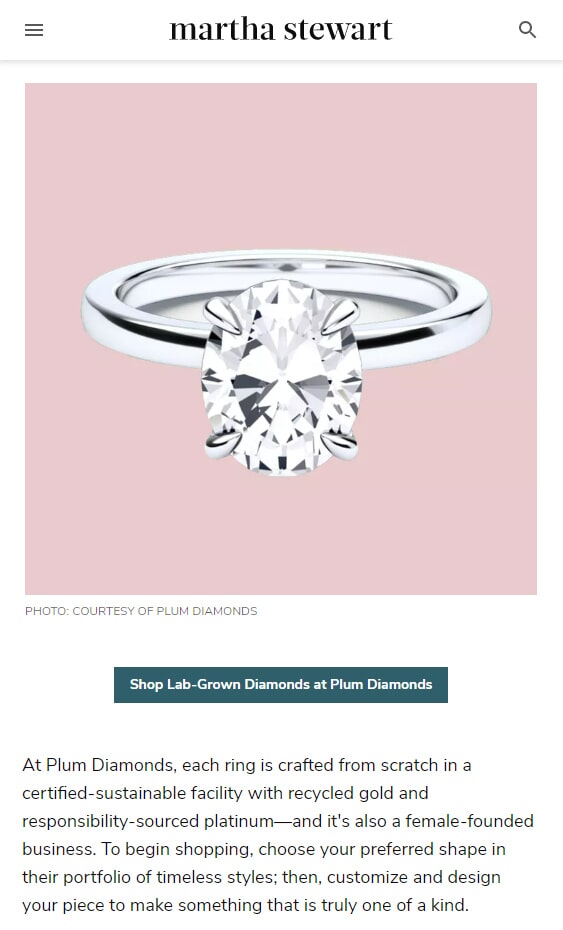 The writer Lindsay Tigar makes note of our from-scratch process and our easy online customization. Keep in mind: you can customize to your heart's content if you can't find what you want online. Contact me to get the ball rolling on custom design.
I'm also thrilled that Martha Stewart Weddings mentioned that we're a female-founded business. Martha was about 35 years old when she switched careers and launched her catering company that eventually a blossomed into an empire. She is an entrepreneurial inspiration!
My mom unfortunately passed away years ago, but she would be so proud. It's SUCH a good thing!