Is A Destination Wedding Worth It In 2023?
Photo credit Marquez Fotos
There's no "right" way to plan and host a wedding. Couples are preparing all sorts of special weddings in 2023 and beyond, and one of the most popular options is the destination wedding. We can understand why; a wedding away from home is a great chance to get away from it all and experience the start of your new lives together in a new place.
DESTINATION WEDDING: THE BIG EASY?
In fact, one of our wonderful jewelers Erika just got married in a destination wedding! She exchanged vows with the love of her life in New Orleans; all of their guests had a wonderful time and fell in love with The Big Easy! 
Planning a destination wedding comes with a lot of fun and a lot of potential worry. With all the lingering uncertainties of travel and additional complexities, is a destination wedding worth it in 2023? Let's look at the pros and cons of having a destination wedding in 2023 and get Erika's take on her own experience.
Grab yourself a mai tai and imagine yourself dancing the night away with your new spouse on the beach (or ski slopes or romantic European city or.....).
WHAT IS A DESTINATION WEDDING? 
You might think a destination wedding has to happen on distant shores, but technically it's simply any wedding outside the couple's hometown.
For this article, we will be considering things a little further than just down the road, but many of the pros and cons apply to any wedding that isn't within easy-peasy driving distance.
Newlywed in NOLA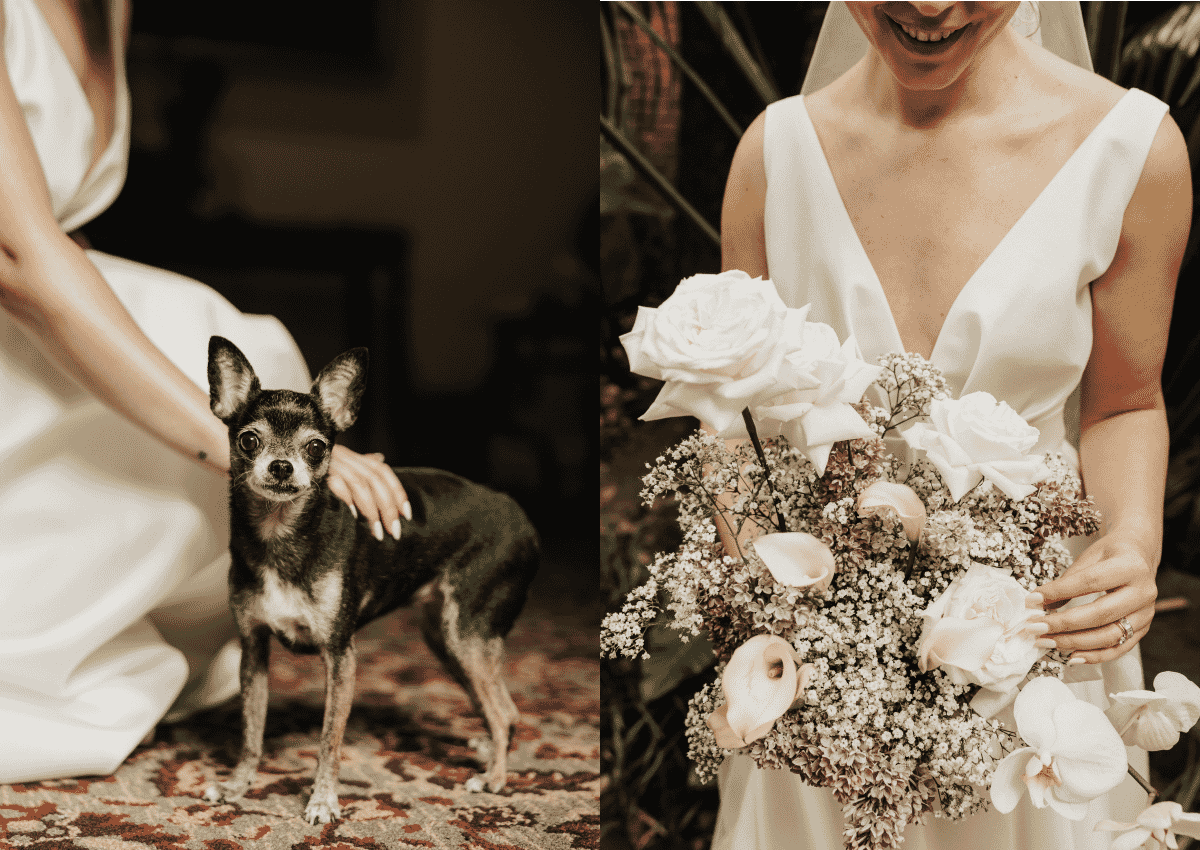 The couple's Guest of Honor, their pup Truck. Photo credit Marquez Fotos
WHY DO COUPLES WANT DESTINATION WEDDINGS? 
There are as many reasons behind a couple's choice of wedding destination or location as there are stars in the sky, but according to Erika, here are some of the most common reasons behind choosing a destination wedding:
#1: More Intimacy / Crowd Control: It takes a lot of guts not to invite distant cousins or people you've grown apart from, but having a wedding that requires travel makes it easier to keep things small. Expect fewer people RSVPing due to the costs and time associated with a destination wedding. This can be a real blessing in disguise if you're looking for an intimate wedding celebration.
#2: Once-in-a-Lifetime Experience in a Special Place: Getting married is already a special, hopefully, once-in-a-lifetime experience, and adding a brand new culture or setting to this excitement can make everything feel even more exciting. Marriage is an adventure, and a destination wedding matches this feeling. For Erika and Dane; they wanted their nearest and dearest to share in the beauty and vibrancy of New Orleans together. 
#3: Wedding + Vacation: No matter what you do or how chill you keep your wedding prep, you'll likely find yourself getting a little stressed and wishing for a vacation. Many people have a honeymoon to look forward to after the wedding, but what about if you get to enjoy some vacation time with your favorite people (and your number one favorite person) from the get-go? Enter the destination wedding!
PROS

 OF A DESTINATION WEDDING
Are you one of those people who needs a pro-con list to decide? We've taken the hard work out of this and created a pro-con list for you and your spouse to consider during your next date night.
Pssst, maybe you'll also want to ponder your lab grown diamond wedding bands during this date night. Just an idea! We love a good classic band with channel set lab diamonds.
#1: Unique and Memorable Experience: One of the most significant advantages of a destination wedding is the chance to have a unique and memorable experience. You can choose a location special to you and your partner and create unforgettable memories with your loved ones. 
#2: Cost-Effective: Believe it or not, a destination wedding can actually be more cost-effective than a traditional wedding. By combining your wedding and honeymoon into one trip, you can save on travel and lodging expenses. And, if your guest list is already narrowed down to those closest to you, you'll end up with a smaller reception to cater.
#3: Intimate Setting: Destination weddings tend to be more intimate, with fewer guests in attendance. This allows for a more relaxed and intimate setting where you can spend quality time with your loved ones.
#4: Eco Friendly: If you choose your destination wisely, you can have an eco-friendly wedding. For example, you can select a location close to nature or with a good sustainability record. You can also choose to have a small, intimate wedding that reduces your carbon footprint.
At Plum Diamonds, choices that are kind to the planet are always at the forefront of our minds. Hence, why we only work with sustainable lab-grown diamonds.
#5: More Romantic: Isn't it romantiiiic, daadaaa daadaaaduuum...
Getting married in a beautiful location can add a layer of romance to your wedding. You can choose a site unique to you and your partner, like where you had your first date or a place you've always wanted to visit together. An exotic wedding of your dreams awaits you.
Late Night Party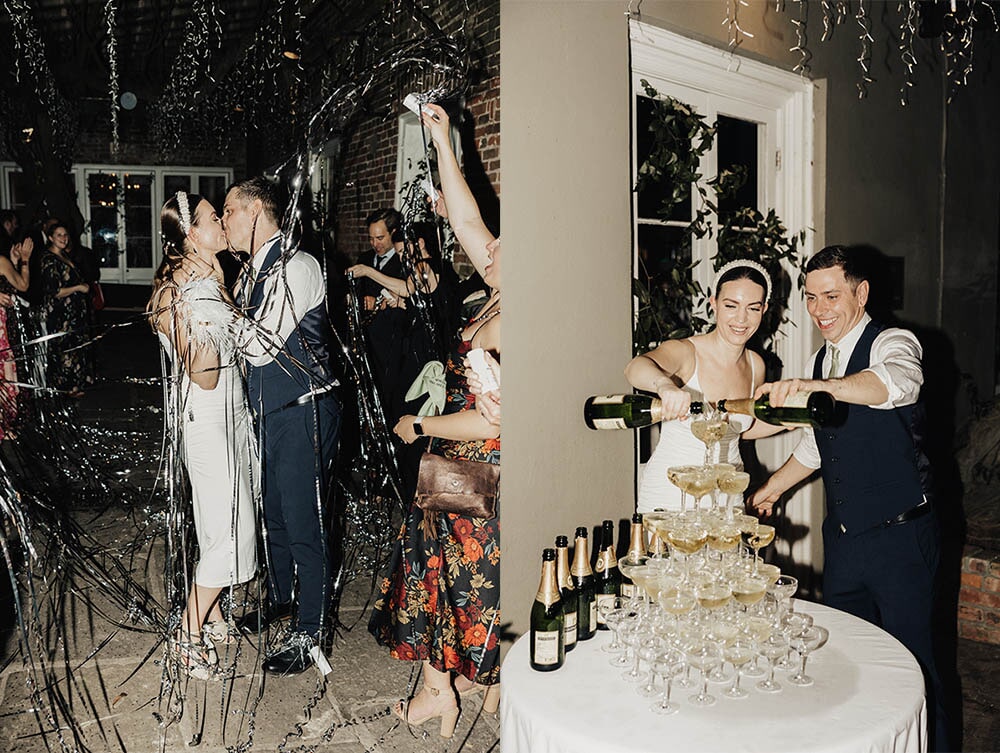 Photo credit Marquez Fotos
CONS
 OF A DESTINATION WEDDING 
Where there are pros, there must also be some cons. That's the way life goes, but with careful planning, you may be able to avoid some of these.
#1: Travel Restrictions: There may still be travel restrictions and uncertainties in place, which can make planning a destination wedding more difficult. You may need to navigate quarantine rules, vaccination requirements, and changing travel restrictions.
#2: Logistics: Is there a less romantic word than logistics? Planning a destination wedding requires careful planning and coordination, especially if you're getting married in a foreign country. You may need to navigate language barriers, cultural differences, and unfamiliar wedding customs. 
TIP: Hire a coordinator! Worth every penny, according to Erika.
#3: Limited Guest List: Yes, it is more intimate, but since a destination wedding can be more expensive for your guests, as they will need to pay for their own travel and lodging expenses. This can limit the number of guests who can attend, which may not be ideal if you have a large family or friend group.
And of course, if you've got guests who just can't make it due to costs, time, or childcare, it can be a real bummer.  
#4: Expense: Wait, didn't we say they could be more cost-effective? While it's true that destination weddings can be cost-effective, they can also be more expensive than traditional weddings, especially if you're planning a lavish event. You'll need to factor in the cost of travel, lodging, and other expenses like wedding favors and decorations.
#5: Legal Complexity: If you're getting married in a foreign country, you'll need to navigate the legal requirements for getting married. This can be more complicated than getting married in your home country, and you may need to hire a local wedding planner or attorney to help you.
Erika's Lab Diamond Wedding Band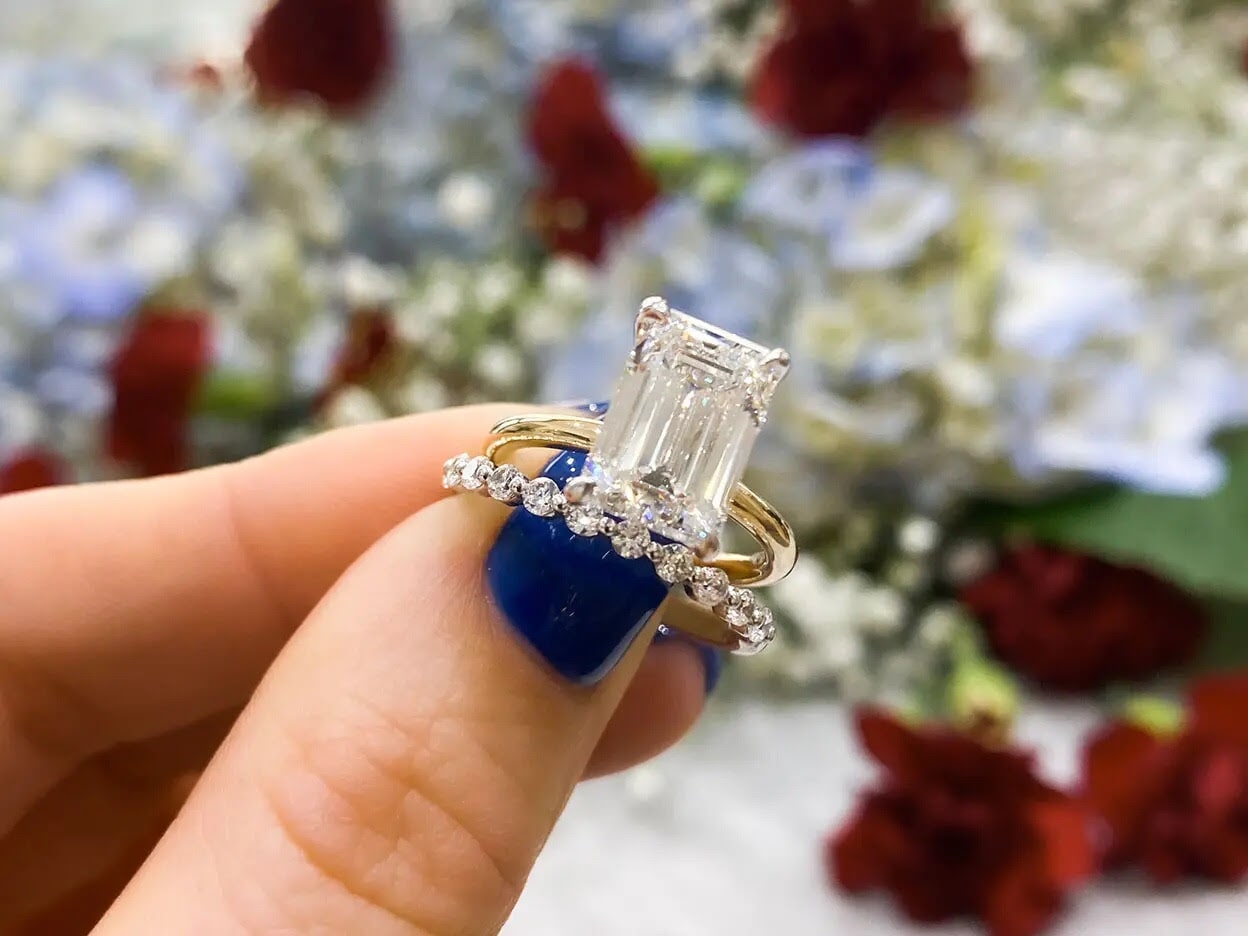 Shop the Classic Floating Diamond Ring
CONCLUSION 
Whether a destination wedding is worth it in 2023 depends on your preferences and circumstances. If you're willing to put in the extra effort to plan a destination wedding, and your guests are willing and able to travel, it can be a truly magical and unforgettable experience.
Whatever choice you make, we hope you have a beautiful Plum Diamond on your finger as you excitedly say, "I do," and enter the next stage of your life together!