Atlanta Style Weddings x Plum: "Refined" Editorial Shoot
Credit: Erin Hoyt Photography at the Distillery of Modern Art.
When I say "Atlanta Style Weddings" to you, what do you have in mind?
If you're a frequent watcher of Say Yes to the Dress: Atlanta, you may picture elaborate gowns and plenty of bling.
Plum Diamonds was recently featured as part of Atlanta Style Weddings 'Refined' shoot, and the results blew us away! One of the most exciting parts of being part of the wedding pro community is seeing how loads of people's work coming together creates magic.
While the gowns definitely took the top spot (I'm a sucker for that bias-cut satin one with the deep slit), we can't help but zoom in on the ring fingers. After all, that's what we're all about. The team behind Plum Diamonds has been in jewelry for as long as we remember. Helping couples from all over the world and all walks of life find their forever ring is kinda our jam!
EMERALD CUT DIAMOND RING WITH GOLD BAND
We spotted it right away, our gorgeous Emerald Cut Diamond Ring with the 18k yellow gold band. This ring has a modern, timeless appeal for brides looking to showcase beauty in simplicity. It's the bride who chooses the cool as a cucumber wedding suit or simple dress that can be re-worn later on.
Want to add a bit more bling to your ring? Plum's rings are easily customizable so you can play around with the metal color, band, side view, and center style.
We can't wait for you to say I do to one of our gorgeous, lab-grown engagement rings!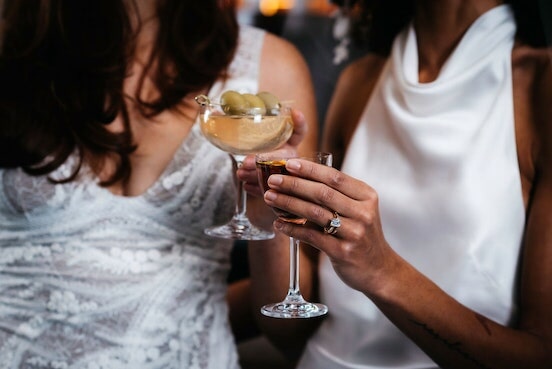 Shot by Erin Hoyt Photography at the Distillery of Modern Art.