What is a Pave Ring Setting?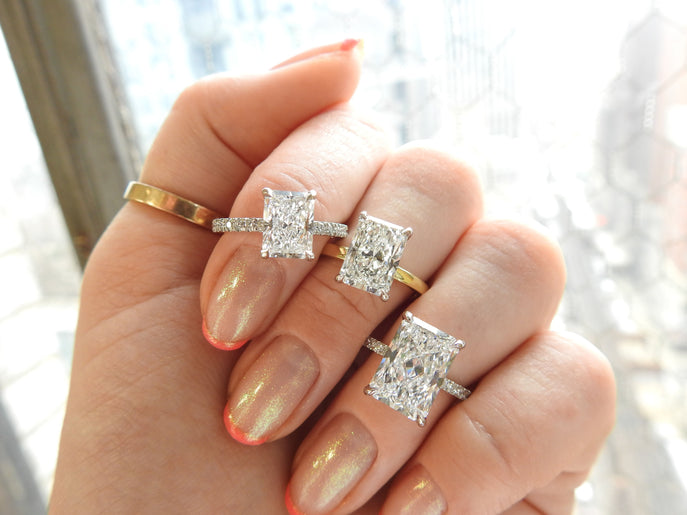 Pavé Engagement Rings: A Sparkling Alternative to a Classic Setting
Known for its sparkling brilliance, a pave engagement ring is a popular alternative to a classic diamond solitaire. Pavé (pronounced "pa-vey") is French for the word "paved', hence the surface of a pavé engagement ring literally appears to be paved with diamonds. 
What is a Pavé Ring Setting?
Creating a pavé setting is an intricate task. In the traditional pavé process, a jeweler drills very small holes into the metal of the setting into which each small diamond will be placed. This is followed by pushing and raising small beads of metal (prongs) around each individual gem to secure them to the ring.
Today, instead of being hand-fabricated, many pavé diamond settings are created in CAD (computer-aided design) where designers can arrange prongs in 3D programs for uniform prongs and setting precision.
The end result is a band of glittering small diamonds set so closely together that there appears to be no metal holding them in place. The effect is one of light-catching, shimmering elegance.
There are several different styles of pavé engagement rings:
- Micro pavé. The small diamonds in a micro pavé engagement ring are arranged in multiple rows. This creates the illusion that the entire band is made of diamonds.
- Scalloped pavé. Similar in design to the u-cut, the scalloped pavé consists of metal beads with u-shaped cutouts underneath to hold the diamonds in place.
- French pavé. The diamonds in a French pavé engagement ring are set in v-shaped grooves in the band of the ring. This setting allows more light to pass through the gems, making it especially sparkly.
- Bright cut pavé. Sometimes called a channel set pavé, it is one of the oldest settings of the pavé style. Small, round diamonds are placed between two walls of metal making this a very durable pavé setting.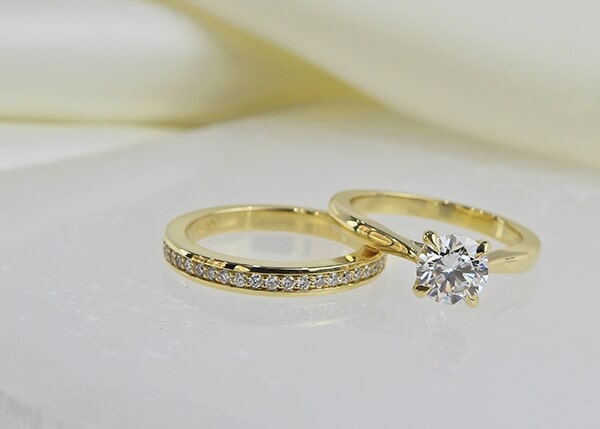 - Petite pavé.A petite pavé engagement ring features diamonds that are held by very small prongs so that each stone is showcased despite their diminutive size.
- U-cut pavé. The u-cut pavé is especially popular featuring a series of grooves into which the small gems are set. This creates a u-shape when viewed from the side.
Pavé Ring Setting Versus a Classic Ring Setting
As with any kind of jewelry, choosing an engagement ring setting is largely a matter of personal style and taste. Because a pavé ring setting contains so many diamonds, it maximizes the amount of light that enters the gems, resulting in a shimmering appearance.
With a classic diamond solitaire engagement ring, the focus is on the single gemstone and its cut, clarity and carat weight. Classic diamond solitaire engagement rings are popular for their simplicity and elegance.
A jeweler can customize a pavé engagement ring to make the most of both styles, encircling the smaller diamonds around a center diamond or colorful gemstone (called a halo) for a truly unique look.
Both pavé engagement rings and classic solitaire engagement rings are created with yellow gold, white gold, rose gold or platinum.
Is a Pavé Engagement Ring More Expensive Than a Solitaire?
There are many factors that determine the price of an engagement ring .
Because a pavé engagement ring is made with many diamonds and requires intricate work to create, it can cost more than a classic solitaire engagement ring. However, the price difference between the two styles is not significant. In fact, for some pavé styles, the cost can start at around $300 more than a solitaire.
By the same token, a solitaire engagement ring that features a single diamond with exceptional clarity or large carat weight can cost more than a ring with a pavé setting.
Pavé Engagement Rings: Positives and Negatives
If you desire a truly sparkling ring, a pavé engagement ring is right for you. What's more, because of the way the diamonds are set, a pavé engagement ring has a very delicate appearance. Additionally, a pavé setting accentuates and spotlights a center gemstone and can make it appear larger for a genuinely dramatic effect.
A pavé setting also allows for versatility in a ring's design making the engagement ring you purchase unique. The setting also increases the total carat weight of your ring, often without significantly increasing its price.
Pavé engagement rings do require a bit more maintenance than a classic diamond solitaire. Because there are so many crevices on the ring, they tend to get dirtier faster than other settings. Additionally, because the prongs on a pavé setting are tiny and more delicate than larger prongs, they require extra care to ensure the diamonds remain securely in place. However, they can easily be cleaned at home with warm water and a soft brush.
Additionally, if you choose a ring with diamonds all the way around the band (called an eternity band), you won't be able to size the ring should you need to. You can avoid that issue by having the diamonds placed on only half or three quarters of the band.
Pavé Fine Jewelry
A pavé setting with its twinkling beauty is not limited to engagement rings alone. You can find a wide selection of fine jewelry that incorporates a pavé setting in a range of items, including:
Necklaces or pendants

Stud or dangle earrings

Tennis bracelets or bangle bracelets

Brooches and pins

Cufflinks

Anklets 

Cocktail rings
As with pavé engagement rings, pavé fine jewelry has aesthetic appeal with closely set gemstones to create a dazzling effect. 
Discover Our Collection of Pavé Engagement Rings
Plum Diamonds is pleased to offer a stunning line of pavé engagement rings. We carry a variety of center stone styles (radiant cut, cathedral, emerald cut or round). Each center stone  is surrounded by a halo of brilliant lab grown diamonds and is available in 18k white gold, 14k rose gold, 18k yellow gold, platinum, 18k yellow gold with platinum or 14k rose gold with platinum.
Plum Diamonds custom-makes each pavé engagement ring to be visually stunning, reflecting your one-of-kind style while celebrating the beauty of your lifelong commitment to one another.