Lindsay Tabas's Make Sense Interviews Plum Diamonds
Plum Diamonds is thrilled to share that our cofounder, Kristy Cullinane, recently appeared on Lindsay Tabas's Make Sense series. In this intriguing session, Kristy shared her insights on many hot topics, from the prospect of plant-based clothes to discussing the future of the diamond industry - lab-grown diamonds!
Kristy, a respected figure in the jewelry industry hailing from Chicago, co-founded Plum Diamonds with a vision to disrupt the traditional engagement ring space. During her time on the podcast, she passionately spoke about our mission at Plum Diamonds, highlighting the importance of our lab-grown diamonds. Kristy explained our unique proposition that counters the adverse environmental impacts of mined diamonds, also addressing global conflict issues.
Kristy and Lindsay also delved deeply into the burgeoning trend of secondhand clothing, contemplating its future implications. One of the more thought-provoking discussions involved TikTok's safety concerns, shedding light on how we perceive and manage tech ethics and standards today.
Kristy also shared a valuable narrative about dealing with partnerships as a non-technical founder. Her experiences encapsulate entrepreneurs' diverse challenges while scaling their ventures, providing critical lessons for emerging startup founders and how to advocate for yourself confidently.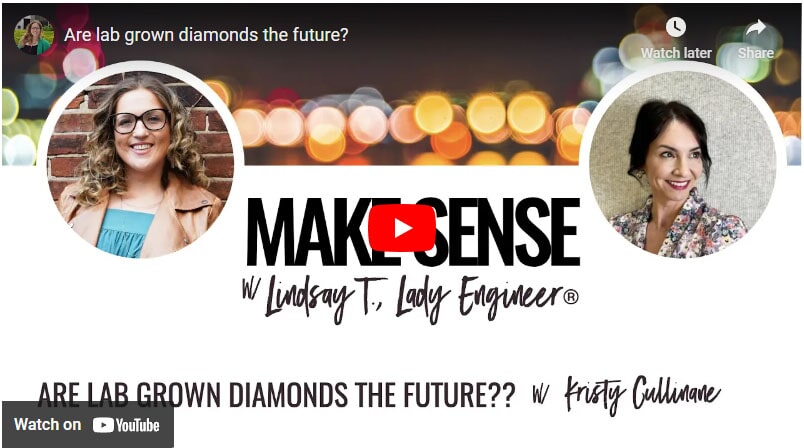 Plum Diamonds prides itself on aligning with modern values and priorities, ensuring couples feel good about their ring choice, now and forever. Kristy's insights at the Make Sense Podcast reaffirm our commitment to sustainable, ethical jewelry practices.
Pssst, our Find Your Diamond Kit can help you choose your perfect forever ring!
Don't take our word for it; check out the conversation here and learn more from Lindsay's many other intriguing guests!