How To Elope 101
DECIDING TO DO SOMETHING DIFFERENT
So you're considering eloping instead of spending thousands of dollars on a wedding? Congrats! It's no wonder that couples are eloping more frequently as time goes on; according to a 2021 survey by The Knot, traditional weddings cost on average $22,500. Yikes!
Take that figure compared to the cost to elope, which according to Brides can start at $5,000. Talk about a romantic ceremony on a budget.
In this post, let's walk through how to elope, so you can plan your dream wedding ceremony - minus the crazy expenses.
STEP ONE: DECIDE ON A DESTINATION
One of the best things about eloping is that you can choose literally any destination you want. If you and your partner have always dreamed of getting married on a beach in Hawaii, go for it! Or how about an intimate ceremony in the mountains? The possibilities are endless, as long as they fit your budget and vision.
You can even use this as an opportunity for both a ceremony and a honeymoon trip. Talk about a romantic way to kick off a lifetime of love.
Forget shelling out the big bucks for a fancy hotel (or couples' suite). A cozy or upscale Airbnb works just fine and is sometimes cheaper than the traditional hotel route.
No destinations calling your name? Research shows that in 2021, the most popular locations to elope were Bali, New York, and Paris - thanks to a 100K location tag search from Catherine Luther Weddings.
Once you've decided on a destination, it's time to find an officiant.
STEP TWO: DECIDE ON AN OFFICIANT
If you're eloping in a destination that's not your home state, you'll need to find an officiant. This can be as easy as Googling "elopement officiants" and your elopement destination.
Many officiants are happy to work with couples who want something simple and intimate - no big wedding bells and whistles necessary.
Typical officiants cost anywhere between $200 and $500, but this can vary greatly depending on your location. Officiants typically need to be booked in advance, so don't wait until the last minute if you're set on a specific person.
Lastly, don't forget that finding someone who fits your vibe will have a major impact on your dream elopement. It's worth taking the extra time to search for somebody that feels comfortable for you and your significant other.
"I'D MARRY YOU ANYTIME AND ANYWHERE"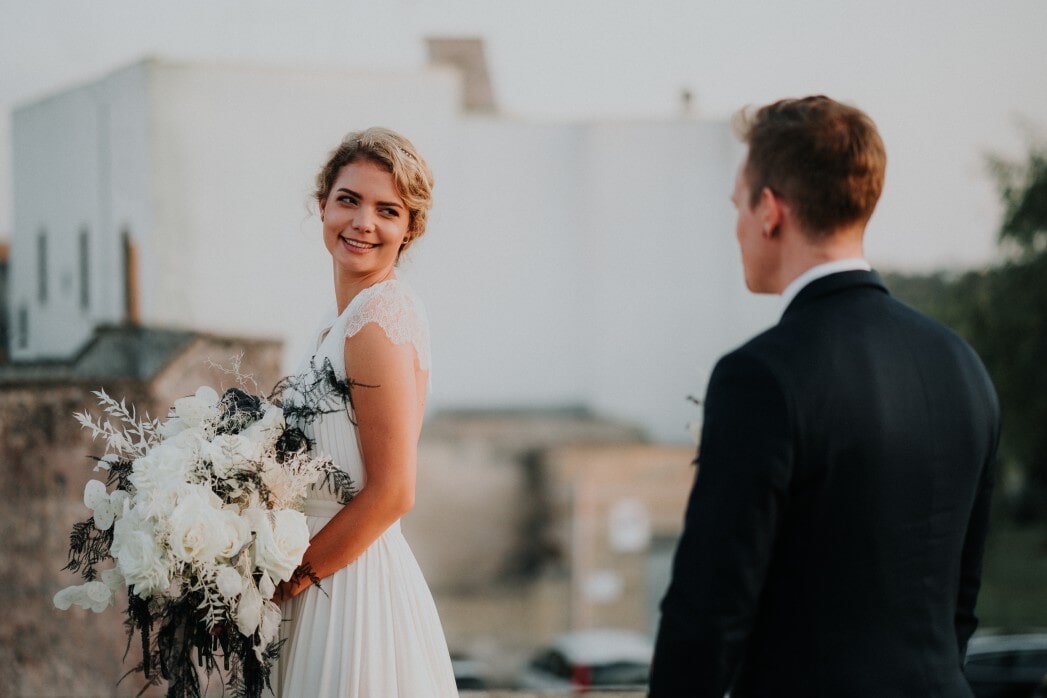 STEP THREE: CHOOSE YOUR CEREMONY WORDING
The best thing about elopements is that you can choose how simple or formal you want your ceremony to be. This includes choosing how to write your ceremony wording. Will you recite traditional vows, or write your own? How long do you want your ceremony to be? What kind of tone do you want your vows to be in?
Keep in mind that some officiants may have specific wording they require, so be sure to check this before you finalize anything.
STEP FOUR: CHOOSE YOUR ATTIRE
Another perk of eloping is that you can choose whatever attire you want. Traditional weddings usually mean a white dress and tuxedo, but in elopements, you can wear whatever you feel comfortable in.
If you and your significant other want to keep it simple and ultra-casual, you can even wear your everyday clothes. Although make sure to check with your officiant to understand if what you have planned fits the bill - some locations require traditional dresses and suits for ceremonies.
Also, make sure to have a conversation with your significant other about attire. This is a major decision that can set the tone for your elopement, and you want to make sure you both are on the same page.
STEP FIVE: PICK THE MUSIC
Music is such an important part of any ceremony, and elopements are no exception. You'll want to choose something that sets the tone for your special day.
Do you want calm and classical music as you exchange your vows? Or how about upbeat, modern tunes to get you excited?
Whatever you choose, make sure it's something both you and your future spouse love.
STEP SIX: DECIDE ON GUESTS
While many elopements happen without guests, it's not unheard of to have a few people come to celebrate with you.
If you do choose to invite guests, keep in mind that the guest list will affect your budget. Plane tickets, hotel rooms, and food all add up, so make sure your guest list is manageable.
STEP SEVEN: FINALIZE YOUR DETAILS
The last and final step of elopement: finalize the details!
This can mean figuring out what kind of food you want to eat the night of your ceremony: do you want to go all out, or have a casual dinner in town?
Elopements are all about taking advantage of every last detail. Whether it's how you decorate your Airbnb, how fancy your ceremony is, or how you announce your elopement to friends and family - the details might end up taking more time than the big-picture planning.
WHEN ALL IS SAID AND DONE...
Learning how to elope is still a newer concept. But with the rise of social media and more couples wanting to keep things simple, elopements are becoming a more popular way to get married.
If you're thinking of eloping, these steps will help you plan every last detail. Just remember to relax and enjoy your day - it's all about celebrating you and your partner.