Choosing the Perfect Engagement Shoot Outfit for Any Scene
SAYING YES IS JUST THE START
The moment you say YES to a ring is the moment that your life with your partner truly starts. Sure, the wedding is your end goal, but simply getting engaged is a moment in time to remember. Like all the biggest moments in life, that calls for a photo shoot.
Ideas for an engagement shoot
When you're engaged to your partner in life, your true love, life starts to look and feel more like a fairy tale. To really step into this moment won't take as much planning as the wedding, but should still be considered with care, attention, and creativity.
We're talking about the engagement shoot!
The engagement shoot is your chance to get in front of the camera to preserve the moments of joy you feel as you move toward your married life. It's a celebration and it's an announcement, but it also gives you the chance to showcase the uniqueness of your love.
Once you know the setting for your shoot, the fun begins and you get to decide what to wear.
Choosing engagement photo dresses can be just as fun as choosing a wedding dress, except you have so much more to play with. Are you going to keep the theme and embrace wearing white? Would you rather keep it casual and pair it with sneakers or boots?
This is your chance to really play with the opening chapter of your happily-ever-after, so don't be afraid to get creative!
To help spark some inspiration, here are a few swoon-worthy ideas for crafting dreamy engagement photo event: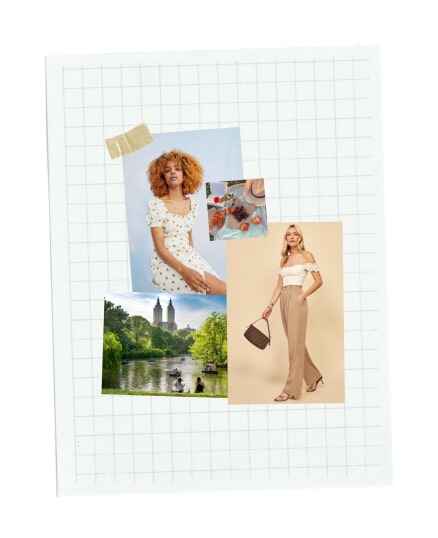 SUNSET LOVER
When the light is going down, your photographer will still need to work to capture it and illuminate your love. Some great places to make this a reality are salt flats (in Utah), mountain tops, or on the beach.
Your engagement photo outfit will depend on which setting you choose, but remember to do your part to play up the setting sun. Avoid colors that are too dark, as they might be difficult to capture in the fading light, but don't be too shy to match the scenery. Dresses in pinks, deep oranges, and light blues can tie you into the scene and ensure you're the star.
We love the laid-back vibe of a sunset shoot with a mini-dress or flowing summer jumpsuit. Of course, opting for white fits the part, but an engagement shoot doesn't have to play by the wedding rules.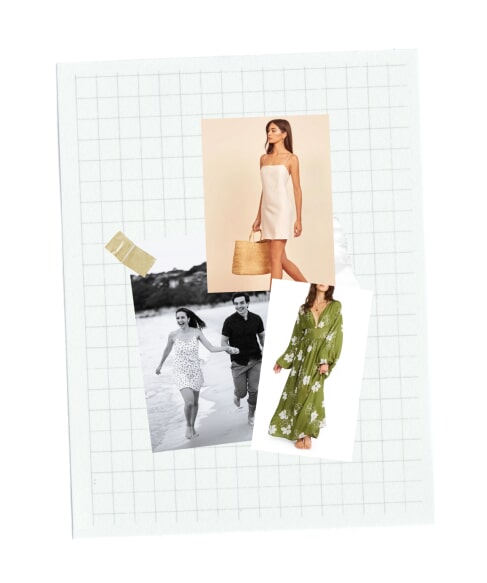 BEACH, PLEASE
The beach makes for a legendary scene for all sorts of photoshoots, especially engagement. There's a romantic intimacy that comes with walking barefoot on the beach hand-in-hand, and your outfit should play into the sweetness of the moment.
While the neutral shades of the sand give you a subdued palate to play with, you can really make this anything you want. In some places, this could mean a very summery vibe, with a playsuit and sandals, while cooler climates might give you the chance to don a sleek jacket and scarf.
White is always a trusted look in this setting, especially if it's a cute cut-out minidress or a crop top paired with flowing culottes. For those who want to hold out for the wedding day to wear white, try something that keeps with the natural theme, like a green halter dress, playsuit, or even a classic form-fitting bodysuit and jeans.
ON CLOUD 9
Try elevating your nature-themed engagement shoot by opting for rocky cliffs with sweeping views. These shots give you a chance to capture scenery over rivers, valleys, or oceans while you're safe in your lover's arms, making for an engagement shoot that's both dramatic and intimate.
When it comes to choosing your engagement photo outfit, you have a whole new palette to work with. Consider your surroundings–what color are the rocks? Any trees? Time of day?–and build from there.
Like with most nature scenes, you have options, but remember to dress smartly if you actually have some rock climbing or hiking to do. This can be a great chance to slip into your most flattering jeans and a statement-making top or sweater. If the weather is cold, you can also bundle up and bring a blanket to take in the scenery making for dreamy moments of comfort and joy that you can relive again and again.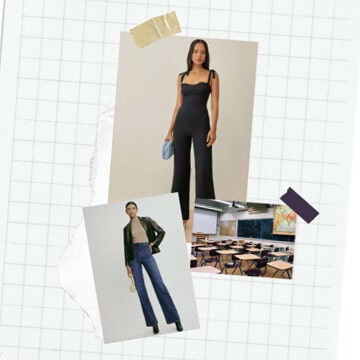 OLD STOMPING GROUNDS
Sometimes, the place where you met holds lots of magic. Whether it's the center of your city or an iconic landmark, recreating scenes from when lightning first struck can make for blissful and fabulous engagement photos.
When it comes to hitting the town for an engagement shoot, it's all about fitting the style while still standing out. A flattering jumpsuit in your most flattering color can work well in this situation. Of course, you also have the tried and true option of "jeans and a cute top" if the setting is more urban. If it is a city-setting or a small town, keep in mind the concept of "classy and comfortable" and you're sure to stun.
DREAMY FIELD
Nowadays there are plenty of event places that are focused on nature. They make great wedding venues, but also serve as amazing backdrops for engagement shoots.
Wineries with their grapevines make for a fun and romantic shoot, where you can opt to sport something that's wine-tasting ready like a floral sundress or flowy skater skirt.
Another great option is to explore the serenity of a lavender field. Surrounded by the light purple hues, a full-length flowing dress in black, pink, or white would pair perfectly.
Wheat fields have a connection with the concept of paradise, especially in Greek mythology, making yet another fabulous stage for your engagement photo shoot. This scene opens up more beautiful opportunities for your engagement shoot dress. You can channel your inner Aphrodite with a draped toga-inspired dress in the colors that you look best in. Soft blues make for a calming scene, whereas red can inspire a sense of passion.
RIDING INTO THE SUNSET
Do you love to travel or have a thing for classic cars? A road-trip themed photo shoot gives you so much to play with. Your photographer can literally take a back seat and observe you both in the car (think: looking for directions, playing with the radio, pointing out landmarks, etc.) and outside the car (taking in the scenery, opening the door for each other, or dancing in the street).
Of course, the outfits can be really fun with these sorts of shoots. What better time to sport your heart-shaped glasses? Putting your feet up on the dashboard while your lover takes the wheel can make a great shot, so keep this in mind while you're choosing your outfit. Cut-off shorts can be really cute, but so can a flattering day-dress or jumpsuit.
This scene just screams leisure and comfort, so play into that idea and have some fun!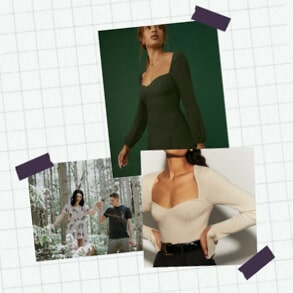 FOREST THEMES
A forest-themed shoot gives your photos an added element of texture. It puts you in the center of a world where it seems just the two of you exist. Surrounded by trees and foliage, there is no lacking in backdrop and plenty of cute options for engagement shoot dresses.
It would play perfectly with the scene to wear a deep-colored dress, or to stand out in something soft. White, of course, always works in engagement photo shoots, but a deeper color scheme, especially a green or tan sweater, would fit well. Boots can also become a cute accessory to an outfit, especially paired with a feminine dress to add a touch of edge.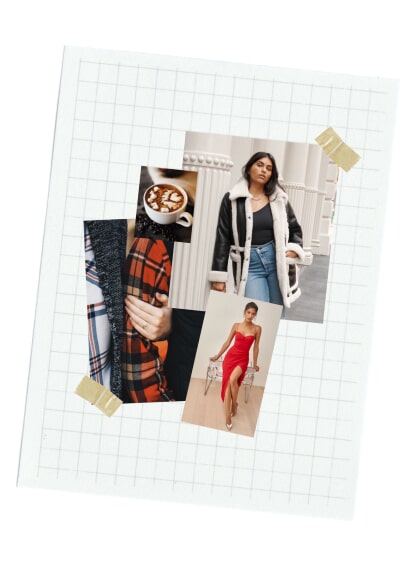 WRAPPED IN WARMTH
Flannels, hot cocoa, wool blankets–all of these cold weather luxuries make for a steamy engagement shoot for you and your love.
This is a theme where you definitely want to match your look to the overall aesthetic. Think cozy flannels or fur-trimmed coats. If you're going for a casual look, you can definitely invite some cute and cozy hats into the mix–but don't cover the ring with gloves!
A scene like this can also invite an opportunity for glam, inviting you to turn up the heat with a deep red gown and faux-fur shrug.
A WALK IN THE PARK
For those who do live in big cities, city parks are designed to give us a picturesque escape into nature. As a result, it also makes for some spectacular engagement photo shots.
This theme truly makes choosing an engagement photo outfit a walk in the park. Keep it simple and elegant, like with statement-making pants and a subdued sweater. For trekking in the park, sensible shoes are a must, so this is also a great scene for the sneaker-lovers or casual sandals.
Want to spice it up a bit? Pack a picnic, and dress yourself in a cottage-core frock complete with puffed sleeves and a tiered skirt a la the strawberry dress.
NAILING THE PERFECT PHOTO SHOOT
No matter what setting or style you choose, the two most central elements to an engagement photo shoot are your love and your ring! Whether you choose to pair it with a laid-back look or go full glam, the best engagement photo shoot is one that features a couple who feels comfortable in the setting and is excited for this stage in your life. From there it's all about enjoying the moment… and , let's be honest, showing off that ring.
Truly, there are no rules to an engagement photo shoot, and that leaves plenty of opportunities to make it super personalized. Do take the time to choose what feels right, and you'll have pre-wedding pictures that will bring you joy for a lifetime.