Ethical Jewelry Sourcing
We always do our best to integrate ethical and environmental considerations into our everyday operations, business planning, and decision-making.
We're serious about doing the right thing, just like you. All Plum jewelry is made by our own manufacturing facility, which is a certified member of the Responsible Jewellery Council (RJC). RJC members must adhere to very stringent rules in sustainability and ethics, which are regularly audited.
We're also proud to have been inspected and accepted as members of the Green Wedding Alliance (GWA). The GWA connects conscious couples to environmentally and socially responsible wedding and commitment ceremony vendors.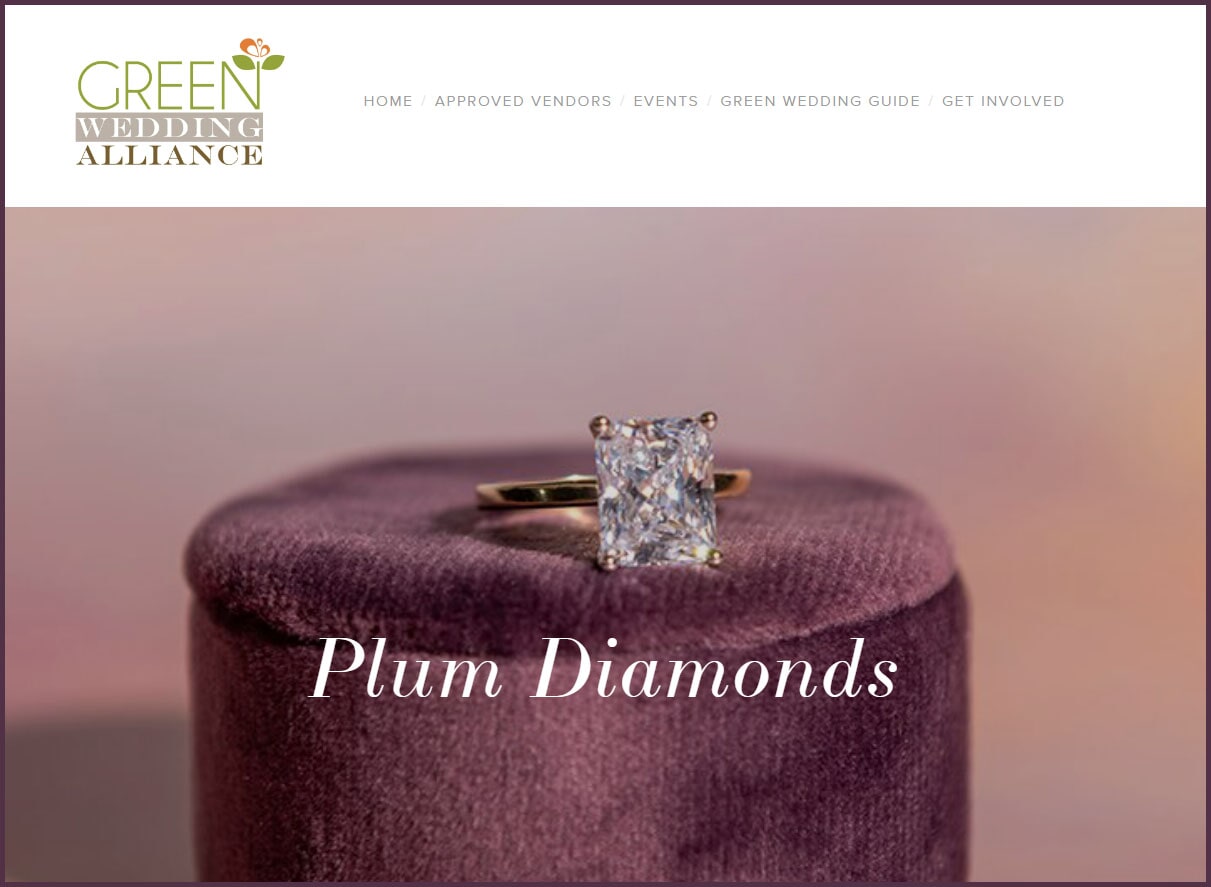 Not to mention, we only use lab grown diamonds — the Kimberley Process has helped the mined diamond industry become more ethical, but the Kimberley Process is still flawed. Lab created diamonds are created in controlled laboratory environments and bypass the whole Conflict Free conversation entirely. The sustainable benefits of lab grown diamonds vs mined diamonds are clear.
Our Diamond Growing Partners
We're proud to work with diamond growers who are as passionate about sustainability as we are. These growers are more than just suppliers to us - they're partners who share our values and commitment to ethical and sustainable practices. We carefully select our partners in part based on their adherence to the SCS-007 Jewelry Sustainability Standard - Sustainability Rated Diamond protocols, which require that they meet a range of criteria related to origin traceability assurance, ethical stewardship, climate neutrality, sustainable production practices, and strategic sustainability investments.
Under the SCS-007 standard, our diamond growers are Accredited Producers and Handlers of Certified Sustainability Rated Diamonds, a certification that demonstrates dedication to responsible and sustainable diamond production. When you purchase a lab grown diamond from us, you can be confident that it was ethically and sustainably sourced.
By promoting the use of lab-grown diamonds, we are doing our part to support a more sustainable and responsible approach to the diamond industry. We believe that sustainability is a vital aspect of running a responsible and successful business. That's why we work hard to ensure that every aspect of our company, from our sourcing to our production practices, is aligned with our commitment to sustainability.
Certified by the Responsible Jewellery Council (RJC)
It's not easy to become RJC Certified, and members' efforts must be ongoing in order to maintain good standing. The RJC uses 3rd-party, top-tier global auditing firms to review our manufacturer annually, so we're always 100% confident that our supply chain is also doing the right thing.

A huge part of RJC certification is Environmental Policy. Our manufacturing division does everything they can to have as little environmental impact possible:
Sourcing metals from recycled sources and using 100% recycled metals whenever possible. Gold and Platinum products always come from RJC Certified refineries, and all fine gold is certified as 100% recycled.
Responsible sourcing methods for other materials and diamonds. This means only using RJC Certified suppliers, who are subjected to a Supplier Code of Conduct.


Reducing waste, and recycling throughout the manufacturing process


Continuously upgrading equipment, office and manufacturing areas with energy-efficient lighting and other efforts


Conducting regular assessments to ensure ongoing improvements impacting Environmental Policy.


Besides following strict policies to reduce environmental impact, we're committed to the RJC Code of Practice which includes:
Human and labor rights and working conditions standards


Health, safety and security in the workplace


Anti money laundering and finance of terrorism practices


Anti bribery practices


The Responsible Jewellery Council sets the gold-standard in the global jewelry supply chain and has developed reliable methods of verification through third-party auditing. We're committed to working with RJC Certified partners and to extending their mission through our own operational practices, community giving programs and lab grown diamond purchases.
Most people don't understand how big of an impact responsible sourcing and other practices can have on our environment. But you do, and so do we. Choose Plum for an impeccable lab grown diamond ring, and feel great about your ethical, sustainable, responsible — beautiful — decision. Start exploring lab grown diamond engagement rings now.